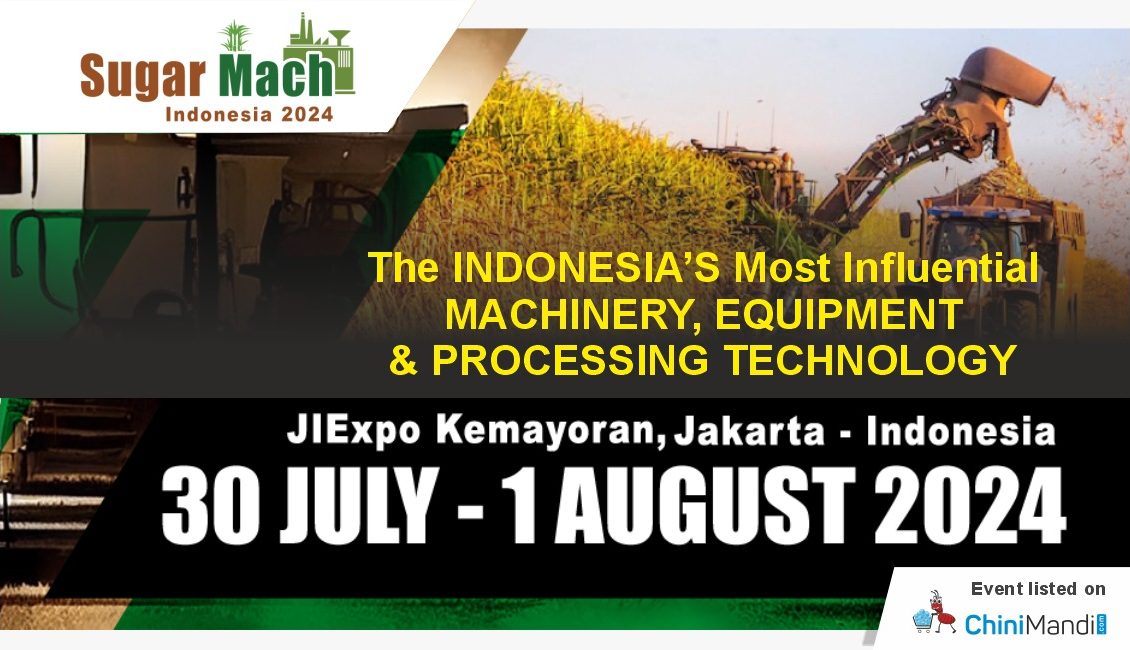 A MARKETPLACE TO BRIDGE TO KEY SUGAR INDUSTRY PLAYERS
Register Today!
The resounding big success of SugarMach Indonesia 2023 Jakarta held along with INAGRITECH, INAGRICHEM, and Inapalm Asia 2023 attracted 243 companies from 19 countries and 7950 trade attendees from over 18 countries, has further proved the event as the ASEAN's most comprehensive trade show for agriculture, palm oil and sugar processing & technology and with the supporting industries.
The 6th of SugarMach Indonesia 2024 will take place on 30 July 01 August 2024 at JIExpo Kemayoran, Jakarta – Indonesia and co-locate with INAGRITECH, INAGRICHEM, INAPALM ASIA. The show will be collaborate with new section: Pump and Valve Indonesia 2024 – for the pump & valve system industry, Tube and Pipe Indonesia 2024 – for Tube & Pipe Industry and INAHARDWARE 2024 for Hardware, Tools and Material (Agriculture, Garden and Work Tools).
Moreover, SugarMach Indonesia gains a strong support from the Indonesian Sugar Association (AGI) and Indonesian Association of Sugarcane Technologist (IKAGI). SugarMach Indonesia 2024 is held in attempt to push Indonesia's infrastructure development in sugar industry as well as supporting the country's effort to achieve sugar self-sufficiency in 2020. For the success of the event, AGI will also hold the National Sugar Summit along with SugarMach Indonesia 2024.
Click here for more details :- https://www.sugarmach-indonesia.net/