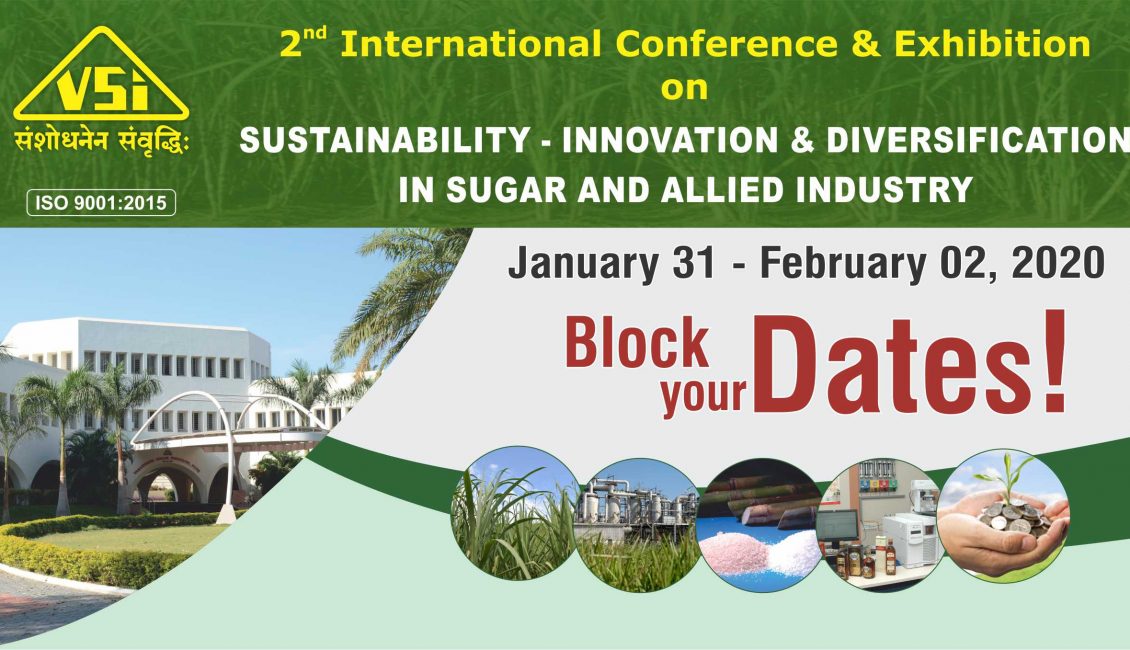 Vasantdada Sugar Institute (VSI), an ISO 9001-2015 certified Institute is organizing the 2nd International Conference and Exhibition on "Sustainability – Innovation & Diversification in Sugar and Allied Industry" from January 31 to February 02, 2020 at VSI, Pune.
This is a flagship event of VSI where eminent international and national speakers will be delivering lectures on significantly different important aspects of sugar and allied industry. This largest congregation of technocrats of sugar and allied industry is likely to be attended by more than 2000 delegates from national and international experts and scientists who will share their vision ideas and experiences during the Conference. Besides, this three days event will have in-depth discussions of the innovations of the Research Scientists, Engineers, Technologists and Agriculture Scientists for the improvement of sugar and allied industry.
In conjunction with the Conference, a concurrent "Exposition of the Products and Services of Sugar Industry" is also being organized in which we will see participation of leading national and international exhibitors showcasing their latest innovations, products and services. It is an opportunity to meet and interact with more than 200 service providers from sugarcane and allied industry to small and medium enterprises. We invite Scientists, Researchers and Technocrats to present their research papers in poster form and interact with industry.
On the occasion of this International event, there will be a live crop demonstration of sugarcane showing various advance technologies and cultural practices covering sugarcane varieties, irrigation methodology, inter-crop cultivation, different agronomical practices and management of nutrients, pests and diseases.
On behalf of VSI, we take this opportunity to invite the participants and exhibitors in large number to attend the Conference and take the advantage of various opportunities displayed in the event.
We are sure that you will find the entire programme of the Conference exciting and useful.