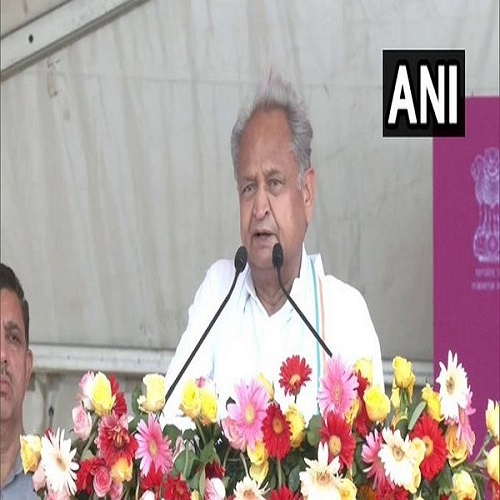 Jaipur (Rajasthan) [India], April 25 (ANI): Rajasthan Chief Minister Ashok Gehlot inaugurated the 'Inflation Relief Camp' in Jaipur's Mahapura village aiming to provide the people of the State relief from inflation.
"We have given 2,000 units of free electricity to the farmers, and now the farmers' electricity bill will come to zero," Rajasthan CM said on Monday.
He further said while addressing the public, "I have announced that a minimum pension of Rs 1,000 will be given in Rajasthan to the people."
"Provision of financial assistance of Rs 40,000 per cow has been made for the dead milch animals due to lumpy disease," he added.
The State government aims to connect common people in the State with information on public welfare schemes of the state government, according to the Chief Minister.
Earlier, the Chief Minister had said that the relief camps will benefit the people under various government schemes to help them amid the price rise.
"Every needy family in the State will be provided relief from inflation by connecting them with the public welfare schemes of the state government. For this, Inflation relief camps will be organized in the state from April 24 to June 30," Gehlot had said on Sunday.
"The common people will get the benefit of 10 public welfare schemes in the camps, which will provide relief from the rising inflation," he added.
The Chief Minister said that the main objective of this initiative was to empower the common people by giving them complete information about their rights, schemes and their eligibility.
"Registration has been made mandatory in the camps to join the 10 public welfare schemes run by the state government. For the convenience of the common people, a person from any district can register in the camps of other districts also through Janadhar," he said.
"The aim of the state government is that no needy person of the state should be deprived of registration in the relief camp," Chief Minister stressed.
According to the state authorities, 2,700 inflation-relief-camps are to be organized daily. (ANI)