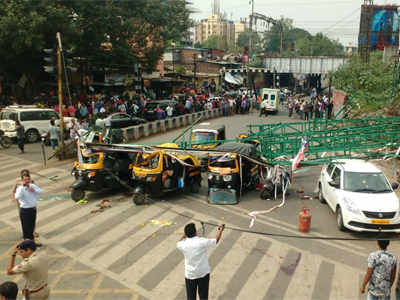 New Delhi: At least three people were killed and nine others injured after a flex banner collapsed on moving vehicles in Pune city on Friday, news agency ANI reported. The flex banner was located near the railway station of Shivaji Nagar. In the accident, around 7-8 vehicles were damaged.
Fire brigade and railway police were rushed to the accident spot. Reportedly, the rescue operation is underway. Police said that injured people have been sent to the hospital for the treatment. However, more details are awaited. An enquiry has also been ordered in the accident.

Last month, several residential areas were inundated after a breach occurred in a wall of the Mutha canal in Pune. No casualty was reported in the incident.
However, there was panic in some of the affected areas where residents claimed that several vehicles were damaged in the sudden flooding. A breach of nearly 15 meters in the canal's right bank wall resulted in water gushing into the Janata Vasahat locality, Dandekar bridge and Sinhgad Road areas.