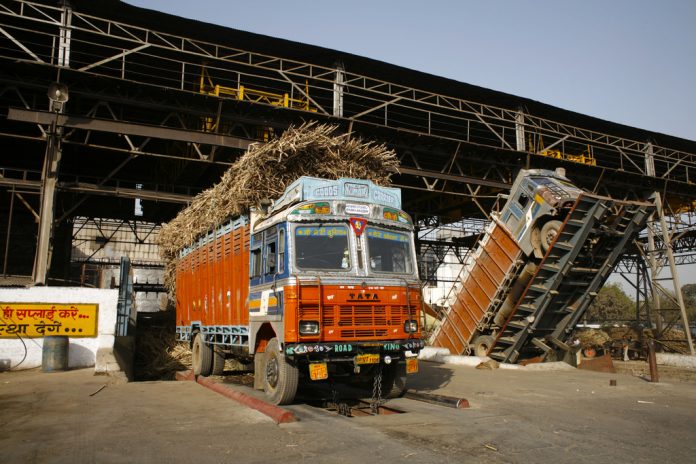 Image Credits: Flickr
Sugar Commissioner Shambhaji Kadu Patil has issued notices to 40 sugar mills for failing to clear their dues with farmers & also mentioned that in case the mills fail to clear their dues, he will issue orders under the Revenue Recovery Code and auction the sugar stock of the mills.

Of the 187 mills that had taken season this year, 126 have ceased their operations by April 10. Only mills in Marathwada and Ahmednagar continue crushing even as mills in Western and Northern Maharashtra have ended their season. The state has seen production of 104.33 lakh tonnes (lt) of sugar and 931.77 lt of cane has been crushed. "Reports have indicated that 25 lt of cane in select pockets remain to be crushed," he said.
As Maharashtra's season comes to an end, the question of unpaid arrears looms large as farmers are yet to receive payment for the cane they have supplied to the mills. Reports show that as of March 31, mills have defaulted to the tune of Rs 2,213.39 crores. Mills have paid Rs 16,809.71 crores as against the total payment of Rs 18,707.01 crores. Only 66 out of 187 mills have cleared 100 per cent dues while two mills have not paid anything to growers. The mills in Pune and Ahmednagar region have reported the highest payment.
Even if the sugar season comes to a close, the bigger worry for millers is the steep slide in sugar prices, which has made payment difficult. On Wednesday, some of the mills in the state have reportedly closed deals to sell sugar at the rate of Rs 26.50 per kg as against the prevalent sugar prices of Rs 29 per kg. With production cost pegged at Rs 35-36 per kg, millers say the present price is resulting in losses to them.
A few weeks back, the central government had announced 20 lt of sugar till September 2018 under the Minimum Indicative Export Quota(MIEQ) but millers have said that without any government support, exports would be non-viable. To add to their woes, the Maharashtra State Cooperative Bank (MSC) Bank has devalued sugar making by Rs 120 per quintal. This would be sixth devaluation of sugar in the current season.
If the present season appears to be difficult, millers have pointed out that the anticipation of bumper crop expected next year would make life more difficult for them. Without government intervention, either in terms of export subsidy or direct payment to the farmers, millers say many of them would not be in a position to absorb more losses. A miller from Maharashtra said in want of government help, mills might start distress sale and the losses would be huge. In such a scenario, many of the private mills might avoid crushing cane for the next season. In such a scenario, the state government might have to compensate farmers to the tune of Rs 60,000 to Rs 70,000 per acre for their uncrushed cane.
Rohit Pawar, the vice-president of Indian Sugar Mills Association (ISMA), said that in case of falling prices, government should step in to mitigate the losses in the sector. "We require some capital infusion for the next season," he said.