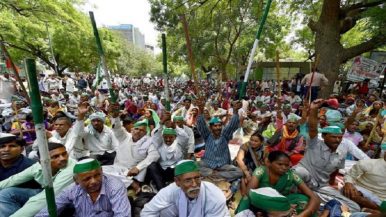 ChiniMandi: Over 70,000 farmers from Uttar Pradesh, Uttarakhand, Haryana, Punjab and other parts of North India with a large convoy of tractors and trolleys are marching to Delhi and are scheduled to reach the Kisan ghat in the capital on October 2.
Farmers affiliated to the Bhartiya Kisan Union (BKU) flagged off the 'Kisan Kranti Yatra' on September 23 from Haridwar's Baba Tikait Ghat. UP. The march, which is currently on their way to Ghaziabad from Modinagar, is making an attempt to underscore the issues faced by farmers – low minimum support prices (MSP), hike in diesel and electricity prices and payment of pending sugarcane dues

Pending sugarcane dues, which remain at Rs 10,000 crore in UP even three months after the season ended, has been a cause of severe distress to farmers. Increasing cane yields and increased sowing has led to a surplus sugar production. In the 2017-18 agricultural year, India produced 32 million tonnes of sugar, while the demand was only 25 million tonnes, leading to a crash in prices of sugar. This, sugar mills argue, has hamstrung their ability to clear pending dues.