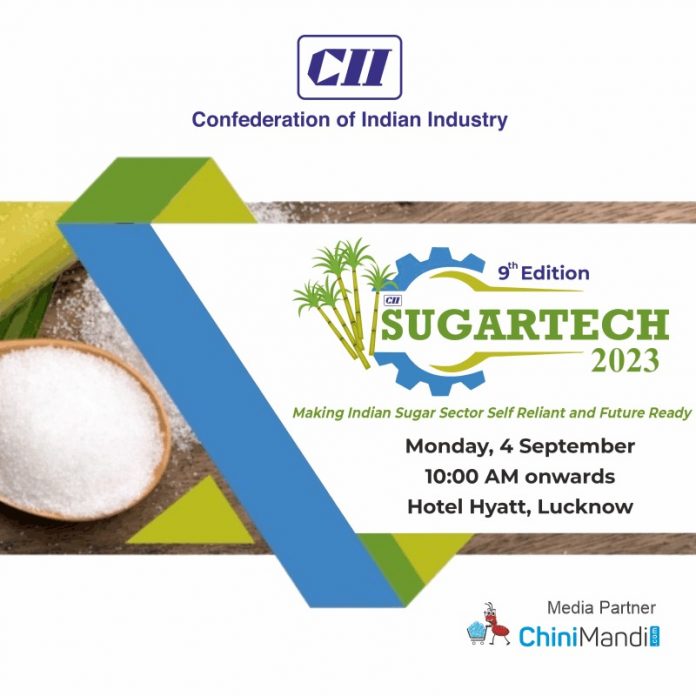 9th edition of CII Sugar Tech 2023 is receiving an enthusiastic response from the participants, setting a positive tone for the event.
In a significant stride towards sustainable progress in India's sugar sector, the Confederation of Indian Industry (CII), in partnership with the Uttar Pradesh Sugar Mills Association (UPSMA), is gearing up to host the 9th edition of CII Sugar Tech 2023. With a resolute focus on fostering innovation, this year's conference is slated to take place on Monday, September 04, 2023, at Hotel Hyatt in Lucknow.
The chief guest for the event is Minister for Sugarcane Development and Sugar Mills, Shri Laxmi Narayan Chaudhary, Guest of Honor is Shri Durga Shanker Mishra, IAS, Chief Secretary, Government of UP, special guest at the event is Mr Prabhu N Singh, Sugarcane commissioner of UP, conference chairman is Mr. Roshan Lal Tamak, Executive Director and CEO- Sugar Business, DCM Shriram Ltd., and Media partner for the event is ChiniMandi.
The Sugar Tech 2023 will highlight the latest technologies relevant to the sector at the industrial and farm level. The platform would enable the industry to update themselves with the latest methods and the best practices to sustain their business in a profitable manner despite the challenges thus creating wealth from waste. UP has already achieved 10% of the total target of 20% blending of ethanol in petrol, set by the Govt of India. With 75 distilleries having production capacity of 249.49 crore liters per annum in the state, UP has become the largest producer of ethanol in the country, further strengthening ways for being hub of bio and clean energy.
The theme of the conference shall focus on: 
Sustainability in sugar sector for a circular economy: Integration, diversification and value addition
Mechanization, Water Conservation, Drip irrigation, Research& Development for sustainable cultivation
Technological intervention for robust growth of sugar and allied sector along with adaptation to climate change
Sugar sector transitioning to Bio energy hub
Ethanol: The emerging sector
Latest global trends and technologies for improving the performance of sugar and ethanol industries in India
Waste to energy generation possibilities Energy efficiency in Process and utilities
Significance of Cane in power sector
Biofuels – 1G, 2G Ethanol and advance Bio-fuels
Register via below mentioned link-
Registration Link : https://cam.mycii.in/ORNew/Registration.html?EventId=E000062800
The CII Sugar Tech 2023 conference promises to be a pivotal event, uniting industry experts and stakeholders to shape a sustainable and prosperous future for India's sugar and ethanol sectors.