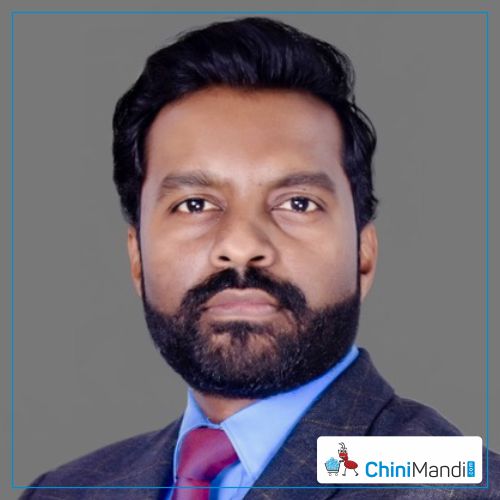 Different agencies of the Government have been making rapid moves to put in place a favorable regulatory and retail ecosystem to align with the Ethanol Blending Program (EBP) with an indicative target of 20% blending of ethanol in petrol by 2025 that will help India strengthen its energy security, enable local enterprises and farmers to participate in the energy economy and reduce vehicular emissions.
While Oil Marketing Companies (OMCs) have prepared their plans for a phased rollout, vehicle manufacturers have assured of making a similar plan. The sugar industry is nowhere behind in gearing ahead in ramping its ethanol capacities.

In talks with ChiniMandi News, Mr. Sandeep Chichbankar an eminent technocrat, Managing Director at Covalent Projects & Engineering Pvt. Ltd. – a Pune based Biofuel and Distillery EPC Company and also an Ambassador and Advisor to Green Crude Biofuel Foundation shared his views on the Ethanol Blending Scenario in India.
On being asked as to what various kinds of initiatives he would like to take up as an ambassador and advisor towards making India Atma Nirbhar for biofuels and reducing the imports of crude; he shared "Energy self-sufficiency for our nation is of paramount importance. Presently 82% of the total energy requirement is fulfilled by crude oil, fossil fuel import causing huge burden on national exchequer. The Government of India has been focusing on energy conservation, self-sufficiency and reducing carbon-footprints. Though various initiatives are being taken at a large-scale level, the rural sector is still missed out.
With my role as an Ambassador & Advisor at Green Crude & Biofuel foundation, I am reaching out at the micro-level with a special emphasis towards rural economy. The objective is to make the smallest of the villages self-reliant in terms of energy through micro biofuel set ups. The Patented Technologies with Green Crude & Biofuel foundation will greatly enhance the capabilities of the rural economy in developing new Green energy resources and also generate huge employment opportunities for the rural youth. India, with its culturally diverse population, micro-management of Green Initiatives has huge potential and will uplift the rural economy."
Many stakeholders see the sugar industry as the "energy sector" however the bigger question here is which option for decarbonization India will choose. There is certainly a case for a Brazilian-style model, but if India goes down the electric vehicle road, ethanol's role may only be that of a transitional fuel provided the country can generate enough renewable power and have the requisite infrastructure in place. At the moment Indian reliance on coal to generate electricity means ethanol is the more effective fuel in lowering the carbon footprint but the question is: For how long?
"Any Feedstock for Ethanol including Sugar, Sugarcane, Grains, and Cellulosic is agro-based. Therefore, Ethanol in its truest sense is the greener fuel and renewable energy source. However, electric vehicles will continue to consume fossil fuels to a larger extent causing depletion of our precious natural resources unless power is derived from alternative sources.
Further, logistical and disposal challenges for electrical vehicles are humongous and expensive. Whereas ethanol production and distribution are an efficient proposition with existing infrastructure.
Ethanol stands in a better stead vis-à-vis electric vehicles. As regards to the Brazilian-Model, it has its own pros and cons. India has to tread very cautiously considering the issues associated with the former model. Here Ethanol as a viable energy alternative provides a sustainable & futuristic solution for the Indian economy, especially rural India." He answered.
Covalent Projects & Engineering Pvt. Ltd., under the leadership of Mr. Sandeep Chichbankar is moving ahead with the same pace as India is. Mr. Sandeep further put forward on how its driving its clients towards a cleaner energy or an Atmanirbhar biofuel sector,
"Covalent with its in-house Co-gnize* Technology ensures maximum efficiency in production of high purity Biofuels with lowest energy input, highest yield, total recycle and practical zero liquid effluent discharge. Further, "Co-gnize* Technology is flexible enough to accommodate specific requirements, schedule and cost.
Covalent adopts a holistic approach towards environment conservation, decarbonization, promotion of green fuel, and importance of rural economy. IS YOUR BIOFUEL REALLY GREEN? OR ARE WE JUST TRANSFORMING FOSSIL FUEL TO BIOFUEL? This is the pertinent question, which Covalent is currently addressing."
Concluding on an advice to how the global community should move forward while implementing Biofuel initiatives, Mr.Chichbankar commented, "The Global community while implementing Biofuel initiatives must adopt a four-pronged approach while resolving the perennial issue of energy crisis. Firstly, reducing dependency on fuel imports to spur India's growth. Secondly, exploring new opportunities in other biofuels such as methanol, butanol, methane, biodiesel & advanced generation of ethanol based on lignocellulose and genetically engineered algae, which has all along been a neglected area for quite some time. Thirdly, empowering the rural economy to explore new avenues for utilization of agro-based fuel. Most importantly, the primary focus needs to be on reducing use of fossil fuel reserves globally since sustainability of life mainly depends upon how effectively we manage our precious resources."