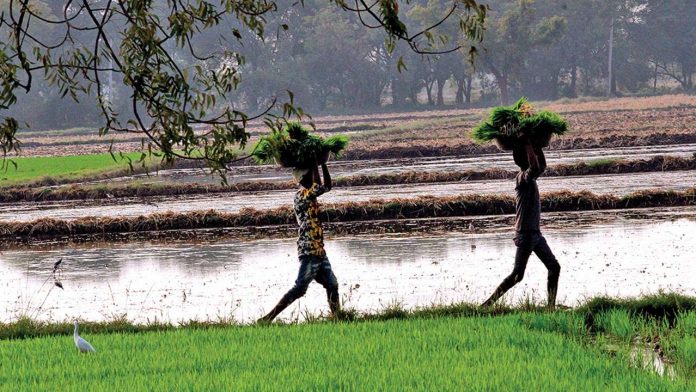 With monsoon sluicing the state, sowing activities for the Kharif season are in full swing in Maharashtra. So far the 60 per cent sowing is complete in the state's cultivable land.
According to the state agriculture data, out of 140 lakh hectares, the sowing activities have been carried out in 84.25 lakh hectares of land. "Between June 1 to July 9, the state received 340 mm rainfall. The Konkan region received the maximum rainfall while some parts of Nagpur region got medium rainfall so far. Out of 355 tehsils, nine tehsils received 25 to 50 per cent rainfall; 58 tehsils witnessed 50 to 75 per cent rainfall while 89 tehsils got 75 to 100 per cent rainfall and 199 tehsils received more than 100 per cent rainfall in Maharashtra.
"In Konkan region, the sowing activities have been carried out on 0.76 lakh hectares out of 4.61 lakh hectares of land by July 9, which is almost 17 per cent of the total land," stated the state agriculture department's weekly released data.
As per the data, Amarawati witnessed maximum sowing of crops at 63 per cent that includes 48 lakh hectors of land. On the other hand, 47 per cent of land in Aurangabad, 45 per cent in Nashik, 43 per cent in Latur, 28 per cent in Pune, and 56 per cent of land in Kolhapur has been sowed by July 9. In Pune region, most of the cultivated land comes under the sugar cane plantations and has not been included in the Kharif sowing.
The maximum cotton crops sowing has been done in Nashik region (82 per cent), followed by Aurangabad, Latur and Amarawati region.
Senior agriculture department official said that initially when the monsoon got delayed, they were very much concerned about sowing. "But it picked up in the month of July. This year, most of the districts received a good amount of rainfall that resulted in 60 per cent sowing in a very short time. And if the state continues to get a good rain, 100 percent of the lands will be lowed within the next two weeks. We hope that the farmer gets bumper crops so that there is no shortage of food grains and pulses in the state," he said requesting anonymity.
Another official said that the continuous rainfall also averted second time sowing. "Long dry spells force farmers to go for second and third sowing. its a huge financial burden on farmers as well as the state. With a good sowing season, we are little concerned about farmer suicides too," said an official from the agricultural department requesting anonymity (because during assembly sessions the officers are not allowed to speak to media).
LANDS SOWED
Amarawati witnessed maximum sowing owith 63 per cent of 48 lakh hectors of land sowed. 47% of land in Aurangabad, 45% in Nashik, 43% in Latur has been sowed by July 9