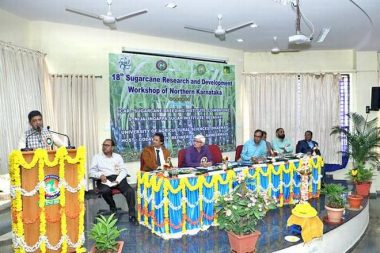 "All these years, our agricultural policies have been predominantly consumer-oriented. We need to reorient them to make them producer-oriented," Ashok Dalwai, head of the Committee on Doubling of Farmers' Income, said here recently.
"If we are to double the income of farmers, we need to focus on farmers who are the food producers," he said at the 18th sugarcane research and development workshop of northern Karnataka, organised by ICAR-Sugarcane Breeding Institute, Coimbatore, University of Agricultural Sciences, Dharwad, S. Nijalingappa Sugar Institute (SNSI), Belagavi and sugar industries of northern Karnataka.

He recounted that in 1983-84, the income of landed farmers was more than the industrial labourers. But by 2005-06, it had reduced.
He said that the Union government was adopting a two-pronged approach to ensure doubling the income of sugarcane farmers by 2022.
"This is to improve sugarcane yield from the present national average yield of 71 tonnes per hectare to at least 76 tonnes per hectare and increasing the sugar recovery from the present average of 10.6% to 11%."
Increasing ethanol production to 3.1 billion litres from the 1.1 billion litres will also help the sugar industry in the long run.
"To enable this, the Centre has allowed the conversion of ethanol from cane juice, B-heavy molasses and C-heavy molasses, and announced supporting prices for ethanol," Dr. Dalwai said.
"All stakeholders should take up collaborative research work with National Agricultural Research System institutions. We are suggesting a four-way approach for effective transfer of farm technologies – laboratory to land, land to lab, lab to lab and land to land," he said.
Bakshi Ram, Director of ICAR-Sugarcane Breeding Institute, urged the industry to encourage farmers to grow new and superior varieties and make use of the tissue culture facility established in Belagavi. B.R. Bakshi, Director (Works), Godavari Biorefineries, said the sugar industry was passing through a crisis and sought proper technological and policy support from the government.
R.B. Khandagave, Director SNSI, said they had identified two promising varieties that could prove to be useful for farmers and sugar factories of northern Karnataka.