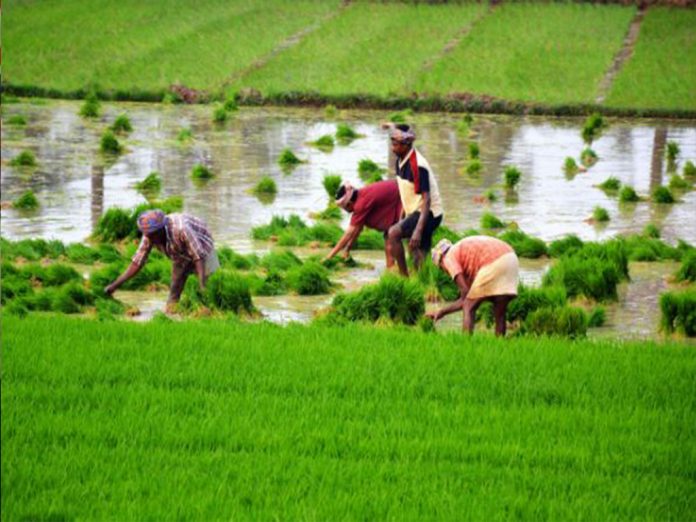 The agriculture ministry will soon move a Cabinet note seeking approval for a new policy that aims to rope in both states and private firms in procurement of other crops than wheat and paddy, for ensuring MSP to farmers, a senior government official said.
The objective of the proposed policy is to improve the speed of response and effectiveness of procurement in cases when prices drop below the minimum support price.
The ministry has proposed three models — Market Assurance Scheme, Price Deficiency Procurement Scheme and Private Procurement and Stockists Scheme — after consultations with an informal group of ministers, headed by Home Minister Rajnath Singh, as well as with state governments.
"The agriculture ministry is preparing a Cabinet note on this. The policy aims to give liberty to states to implement either one of the models of procurement," the senior government official told wire agency PTI.
In case of MAS, the official said, it is to be implemented by state governments who can take immediate decisions on the basis of local conditions, to enter the market and begin procurement through their own state agencies or any other private agency authorised by states.
States will be responsible for procurement and liquidation of the procured commodity. They would create a corpus fund for this purpose and make all logistic arrangements to handle the procurement.
The central government will compensate the operational loss, if any, on value of MSP, up to a maximum 30-40 percent.
The second model proposed under the policy is 'Price Deficiency Procurement Scheme' which is similar to the Bhavantar Bhugtan Yojana launched by the Madhya Pradesh government.
Under the PDS scheme, if the sale price is below a model price then the farmers would be compensated to the difference between the MSP and actual price, subject to certain conditions and ceiling.
The MAS and PDPS are primarily government-owned and driven schemes. The central government wants to bring in private sector players to supplement its schemes. Therefore the ministry, in the new policy, has proposed engagement of private sector in MSP-linked procurement through a transparent e-market platform.
States will be allowed to empanel private firms via a transparent bidding for purchase of farm produce when prices fall below the MSP. The private firms will be given tax incentive and a commission.
According to sources, the monetary implication of the proposed policy will run into thousands of crores if all three schemes are implemented by all states in all MSP notified crops.
Also, the existing Price Support Scheme and Market Intervention Scheme will be discontinued once the new policy is in place, the sources added.
It may be noted that farmers are under distress due to fall in prices of most commodities below the MSP in view of bumper crop. In the Budget 2018, the government has announced that it will ensure delivery of MSP at any cost to farmers.