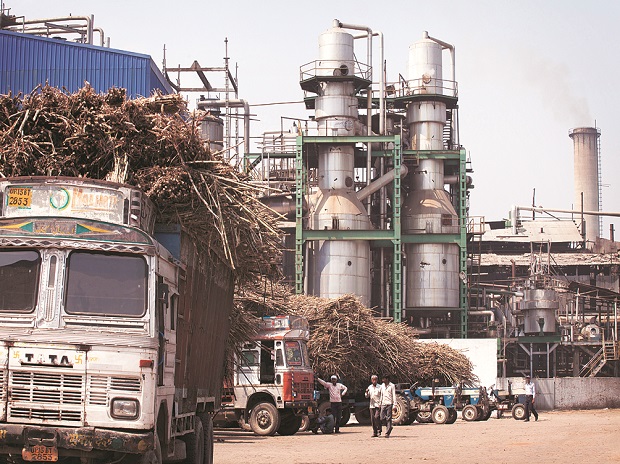 Image Credits: Business Standard
Bumper production of sugar in domestic market, excess sugar supply than demand, falling sugar prices in international market and devaluation of price of sugar by Maharashtra State Cooperative bank has endangered sugar business and experts worry that all the sugar mills will face short margin.

The banks have reduced the assessment of sugar as a result the mills are left with Rs 1400 per tonne to pay sugarcane producers. On the other hand the central government has fixed Rs 2550 per tonne for recovery of 9.5% and Rs 267 for rise in every 1%. As per the rule, the millers have to pay farmers within 14 days of the crushing of cane. Considering that mills will pay only 9.5% as fixed as FRP, they are having Rs 1100 less to pay farmers. Thus all the mills are under crisis and facing short margin.
The sugar sector has witnessed ups and downs however the present crisis is frightening. With available stock of 40 lakh metric tonne of sugar plus excess production of 315 lakh metric tonne and domestic need of 250 to 260 lakh metric tonne, more than 100 lakh metric tonne excess sugar is produced this year. This has resulted in falling prices of sugar in the domestic market. On the other side considering the available stock of sugar with countries like Brazil, Australia, Thailand, the prices of sugar are sliding in the international market.
Countries like Brazil conduct research analysis in international market based on the demand of sugar in market & hence they decide over production of ethanol and sugar. Therefore they are not affected by falling market prices. On other hand there is no such system in our country.
Along with this the change in the policies by central and state government towards the sugar sector affects the sector. If we produce sugar as per the domestic requirement and use the remaining sugarcane for producing ethanol, the sector will get benefited. This will also help in reducing the prices of petrol and diesel and save foreign currency. Sometimes the political differences and the financial deals at higher authorities happen the decisions not taking place in the required timeline.
The sugar sector is currently under crisis and it is necessary to take immediate steps by granting export sugar subsidy, creation of buffer stock, fixing quota of levy sugar. Otherwise the sugar sector will be in crisis forever and we will not see any sugar mill start crushing for next season.