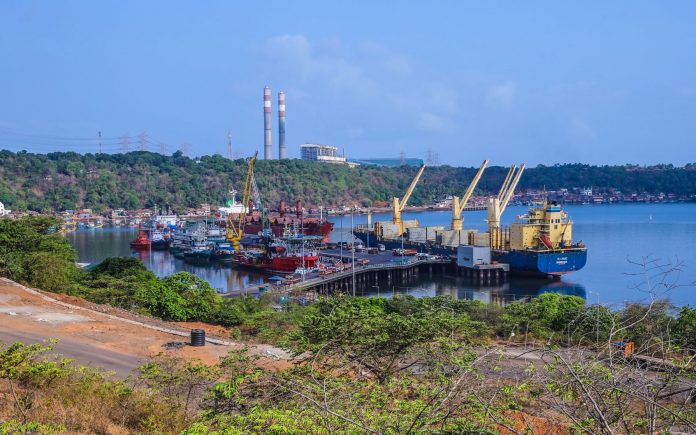 Mumbai, May 27, 2020: Angre Port Private Limited, the most sheltered all-weather port in the Konkan region, has been bucking the trend amid COVID-19 by efficiently handling 22,000 MT of sugar exports in April 2020. While the industry has been facing labor crunch due to the reverse migration, Angre Port has ensured safe handling of exports without any hassles. With this, the port has handled a total of 1,50,000 MT of sugar exports in FY20.
Additionally, for the first time since its inception, Angre Port simultaneously loaded two separate mother vessels with sugar.

Throughout the nation's battle against COVID-19, Angre Port has been in close contact with local authorities, Customs, Maharashtra Maritime Board, among other authorities to align the port's operations with government directives and measures. This has ensured timely movement of cargo from the port to various destinations across the globe. Through robust port safety measures, state-of-the-art cargo equipment, and reliable warehousing facilities, Angre Port has been able to come to the aid of the sugar consignments seeking a safe port for exports, helping them with a sense of urgency to achieve export volumes as the window is quickly closing because of approaching monsoons. Labour shortage and COVID-19 restrictions caused ports in Mumbai and Kandla face serious issues, especially during this peak sugar season. Despite having enough cargo and business, ports are struggling to cope with the requests of traders. Angre Port has set exemplary standards to stand out weathering these challenges to support all its customers to reach their target export volumes.
Commenting on the operations, Mr. C P Jayakrishnan, President, Business Development and Operations, Angre Port Private Limited. said, "Angre Port has managed to remain consistent in ensuring seamless cargo handling operations for its customers. We are the one of the only ports along the west coast that has enabled continuity of the global supply chain even during the pandemic. We are pleased that the local sugar mills in Maharashtra and other States have placed their trust in our cargo handling capabilities. We will continue to serve the farmers of our nation by ensuring that their produce from sugarcane reaches the world, and they get rewarded for their hard work, even during these challenging times. We have lined up 60,000 MT of sugar exports in the immediate future."
Angre Port is well-equipped to provide excellent marine, cargo, storage facilities, and several important in-house services to enable clients to enjoy single window, end-to-end service from the port till their factories. At present it is handling two mother vessels, one break bulk and another bulk, simultaneously at the port.
Since the start of the operations in the year 2019, Angre Port has been supporting the local businesses in and around Ratnagiri, especially the sugar mills. The port is well-connected by road and rail to the textile, sugar, chemical and cement manufacturing industries in Madhya Maharashtra, Marathwada, Vidarbha, Mumbai, Pune, Goa, and North Karnataka within a radius of 500 km from the port.
About Angre Port Private Limited:
Part of the 103-year-old Chowgule Group, Angre Port is the most sheltered all-weather port in the Konkan, Maharashtra. It is a multipurpose port with capabilities of handling bulk, break-bulk, liquid, project and containerized cargo. The port, since the start of operations in the year 2019, has handled approximately 750,000 Tonnes of various cargo.
Angre Port provides fully integrated port, chartering, last mile delivery/pick up facilities and fulfils multiple roles as a single point of contact for all its customers end to end logistical requirements. India's largest cruise vessel, Jalesh calls at Angré amidst the tranquil waters and scenic surrounding tourism destinations, making it the only private cruise port in the country.
To Listen to this News click on the play button.