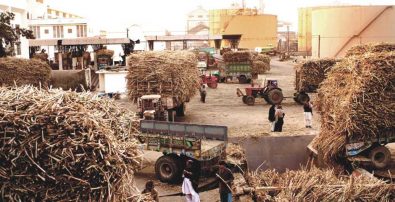 Violent attacks from various regions in western Maharashtra took place on late Saturday as raged sugarcane farmers took up protest against part payment of Fair and Remunerative Price (FRP) by mills in Sangli and Kolhapur. According to sources, offices of sugar mills were forcefully closed and locked.
At a time where the first quarter of the season is yet to be complete, cane arrears in the state have piled up to around ₹4500 crores whereas the nationwide figures have touched ₹15000 crores.
As per reports majority of the mills in the sugar belt of Sangli and Kolhapur, have not paid anything to their growers.
The situation began to be heated when mills in the region began paying their farmers for November after a warning from the Sugar Commissioner of the state which mentioned that the millers would have to pay an interest of 15% on the cane dues. Millers began to clear the dues, however instead of the full FRP, they paid them at the rate of Rs 2,300 per tonne.

The average FRP of Sangli and Kolhapur, which has higher sugar recovery rate than other parts of Maharashtra, is around Rs 2,850, excluding the harvesting and transportation charges.