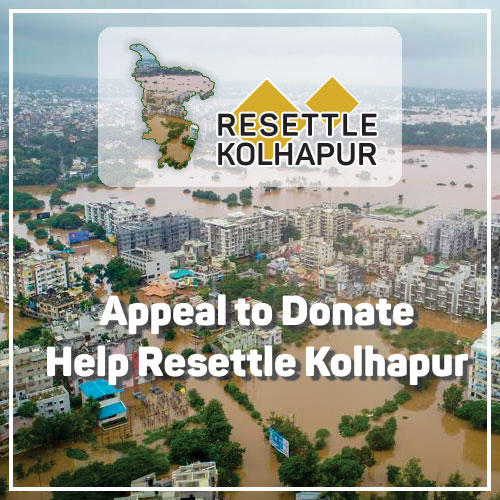 Monsoon rains in parts of Western Maharashtra lashed out the cities of Kolhapur and Sangli leaving more than 2 lakh people and animals stranded. Lives of these victims came standstill due to heavy to very heavy rains for the last fortnight leaving the cities flooded. Several teams from the NDRF, Indian Navy and various other disaster management organisations had been deployed for rescue operations around the cities. Apart from that several local teams and NGOs have been continuously striving to rescue families and animals around the affected areas, localities have extended their hearts out too for assistance with food, shelter, clothing and medicines.
Rescue operations in some parts of Kolhapur and Sangli are yet on, however the actual part of the disaster management is yet to be undertaken because rehabilitation of thousands of villages and areas are to be looked after.

In conversation ChiniMandi, Mr. Jitu K. Shah, Trustee of JK Shah Charitable Trust expressed his intend towards resettling flooded Kolhapur and surrounding areas on immediate basis. He said, "We at JK Charitable Trust anticipate to adopt an entire village and provide kits that would help the people affected resettle. The kit persuades items of food, grocery, sanitation, health and livelihood basics which sums to 90 items & costs Rs. 25000 approximately per family."
"Together we can make an Impact! We believe that your act of kindness will help Resettle Kolhapur and mitigate the effects of the disaster and provide immediate relief to these badly affected families. We appeal to come forward and donate for maximum families (Cost per family Rs.25000) now that will help Kolhapur survive this calamity. Donation from Rs.1 onwards will help us make each family's life better." He added.
For more information call on 8888558888 Jitu K. Shah, President; 8888998888 Hemant Shah – Trustee of JK Shah Charitable Trust or write to help@jkindia.com
To donate below are the bank details:
JK Shah Charitable Trust
ICICI Bank, Branch- Laxmipuri Kolhapur, Current Account No. 6358 0505 1239, IFSC ICIC0006358
Disclaimer: Trustees of JK Shah Charitable Trust hold stake in Innoplats Infotech Private Limited and therefore ChiniMandi authenticates the above details as true to the best.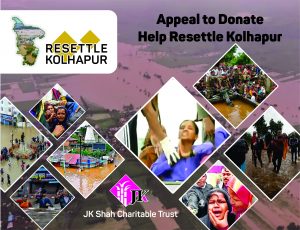 To Listen to this News click on the button below the image.