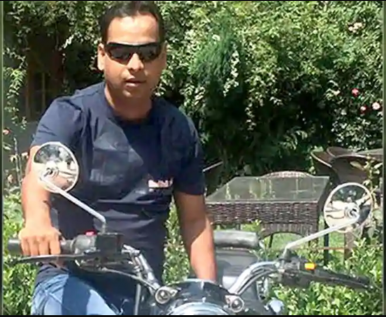 An Apple executive was shot dead by a Lucknow police constable after he allegedly refused to stop his SUV at a checkpoint in Gomti Nagar extension late night on Saturday. According to reports, the deceased Vivek Tiwari was driving towards his home with a colleague, identified as Sana Khan, after the launch of iPhone X Plus when he was intercepted by the police at a checkpoint.
Tiwari allegedly sped his vehicle and hit a bike rode by two other constables who then chased him and also opened fire which eventually killed Tiwari.

In their defence, the constables said they have sustained injuries and opened fire in self defence. Lucknow SSP, Kalanidhi Naithani told the reporters that accused constable Prashant Chowdhary has been booked under Section-302 of the IPC.1.9K SHARES
"We have sufficient evidence against the constable. In their defence, the constables said that they sustained knee injuries after they were hit by the car. They opened fire when they saw Tiwari trying to reverse the car," the SSP said.
When asked whether it was an encounter, the SSP said,  "This doesn't appear to be a pre-planned incident. Two constables have been detained and a special investigation team has been formed to probe the case."
Demanding a CBI enquiry, Tiwari's brother Vishnu Shukla told news agency ANI, "Was he a terrorist that police shot at him? We choose Chief Minister Yogi Adityanath as our representative and want him to take cognizance of the incident. We also demand an unbiased CBI inquiry."