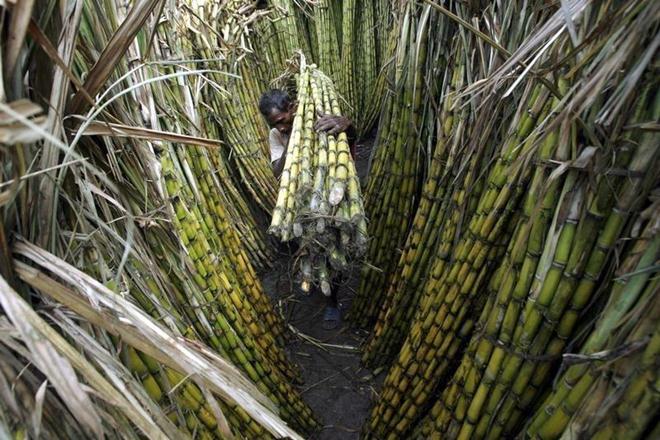 With banks showing reluctance in lending to sugar mills amid fears of burgeoning NPAs and placing them on the caution list, the Uttar Pradesh sugar industry shot off another missive to chief minister Yogi Adityanath on Monday, stating that any "inadequate or token assistance from the state shall not solve the problem but would rather complicate the already complex issue for the next season as well".
"At the risk of repeating ourselves, we reiterate that the gap has to be met by the state to the extent of Rs 40/quintal of cane crushed. Once this is done, the mills shall be able to approach the banks to part fund the balance deficit," says the letter written by UPSMA president.
It may be mentioned that a delegation of top sugar honchos had met the chief minister and senior government officials last week, explaining to them the gravity of the situation. There are signs that the two sides are trying hard to reach a consensus regarding the liquidation of the massive pile up of cane arrears. "In a recent announcement, the RBI has put the sugar industry on the caution list and getting working capital limits from the banks has become exceedingly difficult. Our financial resources are exhausted and we still have a liability of Rs 11,000 crores staring at us. We have no option but to ask for financial assistance to liquidate the cane dues," the letter states, adding that the priority remains liquidation of the massive cane dues which are a direct consequence of the industry's hugely eroded capacity to pay the state advised price (SAP).
"We are clear that all financial assistance shall only go to the farmers directly," the letter reiterates. Stating that the main point of consideration is to fund the differential of the industry's paying capacity and cane price payable, the letter says that the industry is also "finding it extremely difficult to complete our off-season maintenance work in view of the deficit in cash flows. Any delay in the start of the next season will also adversely affect the farmers and the industry," and urges the government to bail the industry out from the current situation in the larger interest of cane farmers.
Explaining the origin of the cane dues issue, the letter states that the cost of sugar production in the current season has been estimated to be around Rs 3,600 per quintal, as has been verified with the National Sugar Institute, Kanpur. Even the state government, has, in its communications with the government of India confirmed that there is need for sugar prices of at least 3400 per quintal to settle the cane dues alone.
Airing the industry's apprehensions regarding paying off cane dues by selling sugar stacked in its godowns, the letter states that the "sugar sales quota introduced by Central government squeezes the quantity of sugar that can be sold by the mills. Going as per the quota, the current sugar shall continue to be sold well after February 2019. Hence it shall take a very long time to settle the entire cane dues and with the arrival of new sugar from other states the value of sugar in our godowns shall be further eroded."