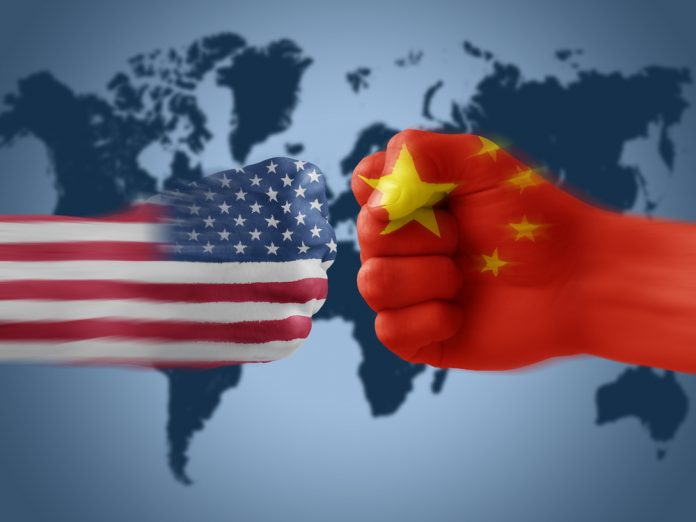 Hong Kong and Shanghai stocks led a sell-off across Asian and European markets today on rising trade war fears after Donald Trump threatened fresh tariffs on Chinese imports and Beijing warned of countermeasures.
Trump said he had asked the US Trade Representative to identify USD 200 billion worth of imports to be targeted, adding he would hit a further USD 200 billion if Beijing retaliates.
Investors were already on edge after the world's top two economies on Friday announced tit-for-tat measures on goods valued at about USD 50 billion as the US president pushes ahead with his protectionist America First agenda.
"The trade relationship between the United States and China must be much more equitable," he said in explaining his decision.
China slammed the threats as "blackmail" and warned that if the US followed through with the tariffs it would "have no choice but to take comprehensive measures of a corresponding number and quality and take strong, powerful countermeasures".
The development took some by surprise and stoked fears of a potentially damaging trade war between the world's top two economies.
"That was quick and sudden, reminding us just how quickly things can get right out of hand," said Stephen Innes, head of Asia-Pacific trading at OANDA.
"Indeed, this is moving beyond 'tit-for-tat' levels and, predictably, investors are running for cover under the haven umbrellas as global equity indices are crumbling under the weight of an escalating trade war.
Trading floors were a sea of red as Hong Kong dived 3.1 per cent and Shanghai plunged 3.8 per cent — ending around its lowest since mid-2016 — as traders on both markets returned from a long weekend.
Hong Kong-listed shares in Chinese telecoms equipment maker ZTE dived 24 per cent after US senators voted to reimpose a seven-year ban on high-tech chip sales to the company.
The move defied the White House's decision this month to replace the ban with a USD 1.4 billion fine, providing a lifeline to the firm, which was threatened with collapse as it relies on the crucial US hardware.
ZTE has now lost around 60 per cent since trading in it resumed last week after a two-month suspension that came in following the initial ban.
Tokyo was 1.8 per cent lower while Seoul sank 1.5 per cent, Singapore slipped 0.1 per cent and Taipei fell 1.7 per cent while Manila lost 1.7 per cent. Bangkok and Wellington were also sharply lower. Sydney was marginally down.
And in early European trade London fell 0.8 per cent, Paris shed 1.3 per cent and Frankfurt was 1.5 per cent off.
"Will it escalate from here? We'd certainly hope not, but it's certainly a risk," said Craig Vardy, head of fixed income in Australia for BlackRock.
"The numbers we think at the moment are pretty small. These are just warning shots going across the bows as some of these countries try and correct some of the trading numbers." Concerns about the effects of a trade war on the US economy weighed on the dollar, which fell against the yen, pound and euro.
"The market is expected to remain nervous for a while as we can't see an end to the dispute," Masakazu Satou, senior analyst at Gaiame Online, told AFP.
Oil prices edged down on concerns about the impact on demand from a collapse in trade, while dealers are also looking ahead to a crucial OPEC meeting that starts Friday.
Crude got a bounce Monday on hopes that a hike in an output ceiling will be more gradual than first feared.