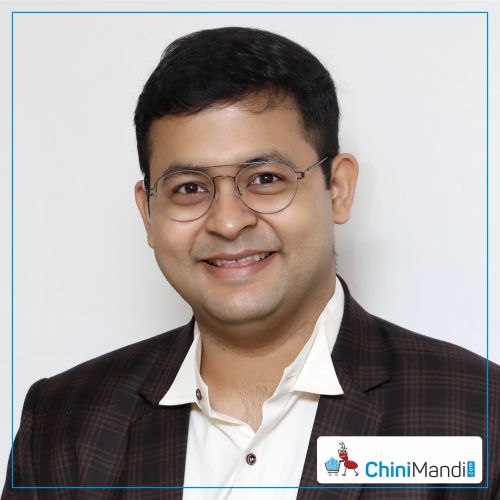 In the era of technological disruptions if an industry fails to adopt digital technology, its growth stagnates. Every industry is joining the bandwagon and setting the wheel of revolution in motion and the sugar industry is nowhere behind right from startups helping farmers increase yield and income per acre, and reducing cultivation costs to simplifying trade methods and enhancing intelligence.
In conversation with ChiniMandi News, Mr. Aniket Deb – Co-founder and COO, Bizongo – India's largest tech-enabled B2B e-commerce & supply chain platform shared how it is bringing digitisation to play for the sugar industry.
Sharing about Bizongo's flagship products and services Mr. Aniket said, "We have developed proprietary digital platforms to offer end-to-end tech-based B2B e-commerce solutions, right from supply chain financing and supply chain automation to vendor management.
Our first solution around supply chain financing (SCF) plays a pivotal role in fast-tracking growth for MSMEs and larger enterprises. To enhance the value addition delivered by the tech-based solution, we have partnered with several banks and NBFCs. This allows us to bridge financial gaps and provide much-needed liquidity to businesses. On the one hand, our SCF solution lowers financing costs and increases business efficiency for buyers and sellers. On the other hand, it helps buyers with a 100% advance against the invoice and releases early payments to vendors. This in turn, helps streamline the entire value chain and free up working capital for businesses.
Our next platform, Partner Hub, brings together a large manufacturer network in India, allowing manufacturers and sellers to optimize resources. Approximately 34% of business productivity goes into streamlining processes, and this number only increases as businesses expand. Here, Partner Hub unites all the fragments of accepting purchase orders, managing inventory, and tracking multiple shipments and offers a clear, actionable dashboard with real-time updates on order status and required actions to accelerate the process.
Our next offering is the Procure Live platform, which understands the complex procurement process and resolves a host of challenges for buyers, such as managing multiple stakeholders, lack of accurate data, discovering the right suppliers, and managing distributed payments, among others. This new-age digital platform transforms the way businesses procure and manage inventory and automates the procurement workflow while keeping costs in check using the Auto-replenishment feature. This allows businesses to achieve higher returns by optimizing the total cost of ownership, managing bandwidth, and avoiding stock-outs.
Finally, our packaging design and artwork management platform, Artwork Flow, adds the last piece of the B2B eCommerce puzzle. The cloud-based platform helps the entire team get to one place, proof artworks faster, and manage assets in one place, meaning faster approvals, fewer iterations, more productivity, and increased speed to market."
Speaking on how digital adoption grew in India's sugar industry and what are some of the tech-related challenges that the industry is yet to overcome. He said, "India's sugar industry consists of more than 700 factories with a capacity of about 340 lakh and an annual turnover of about Rs 80,000 crore. These numbers reflect the important role the sugar industry plays in India's economy. However, such enormous scales of operations trigger several pressing concerns for the sugar industry. For starters, there is a need to reduce inventory costs and increase asset utilization and throughput. Add to it the challenges posed by the growing need to maximize material traceability while enhancing quality, lowering variations, and reducing waste."
On being asked how Bizongo is focused on enabling the sugar industry, Deb answered, "This has been a big year for sugar in India as exports witnessed a massive growth of 291%. While India is the second-largest exporter of sugar after Brazil, the surplus production is also causing liquidity issues and blocking substantial working capital for mills. Further, as mills cannot sell the entire stock immediately after manufacturing sugar it leads to cash flow challenges for farmers. This impact also trickles down to the last mile in the value chain, including traders and retailers. Here, our channel financing solution plays a critical role in unlocking liquidity across the entire value chain and extending financing facilities to sugar mills, which can then release timely payments to cane farmers."
"In parallel, we have also understood the other pain points and three key strategic goals of the sugar industry – producing competitive products, growing business amidst increasing globalization and surging product development costs, and boosting profitability. Here we are enabling the industry to harness emerging technological solutions, such as automation to ensure the horizontal and vertical value chains consisting of cooperation partners, supplier networks, various sub-functions of the companies, and network of customers are better integrated and have clear visibility across the entire supply chain." He concluded.
To know more about Bizongo, check their website at www.bizongo.com
Or Email them at customerresponse@bizongo.com Or Call them at +91 80800 04646