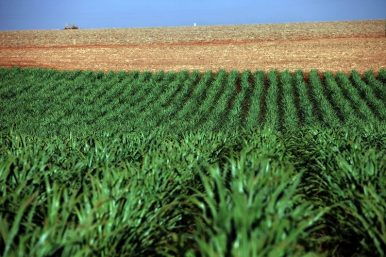 Investment banks operating in Brazil's agricultural sector see a potential contraction in the country's sugarcane processing industry as many companies fail to make enough money to pay bills and better capitalized groups are not willing to invest.
Brazilian investment bank Itaú BBA estimates that 18 sugar and ethanol companies in the country's top cane belt are not currently generating enough cash to maintain their operations, the bank's head of agricultural businesses Pedro Fernandes said on Tuesday.

Another 22 companies are barely generating enough cash to service debt and keep adequate levels of cane field renovation, Fernandes said in a presentation at Novacana Ethanol Conference in Sao Paulo.
The findings came from an evaluation made by Itaú BBA of the financial situation of 75 sugar and ethanol producers in Brazil's center-south region, representing cane processing capacity of 475 million tonnes out of the roughly 560 million tonnes the region is expected to process this year.
It said only 35 companies in that group had a stable financial situation, considering debt per tonne of cane processing capacity and earnings after adequate cane field renovation.
Fernandes said the situation has led to a decrease in cane processing, as many mills are not able to invest in cane fields and there is a lack of interest from companies with better capital structure to invest due to a poor market outlook.
Global sugar prices reached the lowest level in 10 years recently amid a supply glut.
"We are seeing a consolidation in terms of cane processing. More than 70 mills closed. Others that used to crush 12 million tonnes are crushing 6 million. Some groups with five or six mills idled one or two to optimize crushing," said Manoel de Queiroz, a manager at Rabobank in Sao Paulo.
Brazil's cane crop is declining in 2018 for the third year in a row. Most analysts do not expect a recovery next year, as planted area decreases.
"The crop could soon shrink 100 million tonnes more. You don't see appetite for expansion," Queiroz said.
William Hernandes, an analyst with consultancy FG/A, said return on capital seen in Brazilian sugar companies currently is too low to attract investment, undermining any idea of expansion.