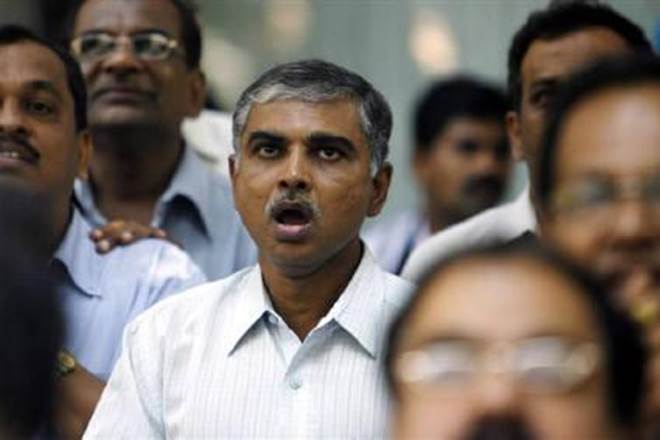 The market's leaders have gone missing this earnings season. For Morgan Stanley, that's a worrying sign that the stock rally may have exhausted itself. Despite more than 85 percent of S&P 500 members beating analyst estimates, the type of pro-cyclical companies you'd expect to surge amid banner earnings have been falling behind. Not even the biggest winners of the year are posting reliable gains, as earnings misses from the likes of Netflix Inc. and Facebook Inc. hamper the momentum trade. As such, risks to the July stock rally are building, and with peaking growth rates and extended positioning, the three-day slide that started Thursday will only get worse, Morgan Stanley analysts said.
"The selling has just begun and this correction will be the biggest since the one we experienced in February," Morgan Stanley equity strategists led by Mike Wilson wrote in a note Monday. "It could very well have a greater negative impact on the average portfolio if it's centered on tech, consumer discretionary and small caps, as we expect." The Nasdaq Composite Index fell 1.3 percent as of 2:48 p.m. in New York, bringing its three-day slide to 3.7 percent. The measure sank almost 10 percent from a January high through Feb. 8.
Some below-the-surface moves are setting the market up for a bigger downturn. One of the more curious developments since the reporting season began has been lagging value stocks — those priced cheaply to their assets. Typically, strong earnings reports spur investors to bid up underpriced stocks. However, a market-neutral version of value has tumbled for the past three weeks.
"Maybe this reflects a realization that while the results are great they may also represent a peak," Sanford C. Bernstein analysts, led by Inigo Fraser Jenkins, wrote in a note Monday. "Analysts covering value stocks are already 'maxed out' in terms of their upgrading of earnings forecasts for such names; we struggle to see how they can get even more positive."
Yet there are some signs that a new leadership could emerge. Value was able to recover some of its losses on Monday, gaining nearly 0.6 percent, most among 10 factors tracked by Bloomberg. Over the past three days, value has beaten the strategy of chasing winners by 1.8 percentage points, poised for the best outperformance since 2016. Analysts like JPMorgan's Marko Kolanovic point to signs of a value rally that would pick up the slack in momentum stocks.
"Some investors fear tech weakness could lead to a much more significant market correction," Kolanovic wrote in a Monday note. "We point out here that value rallies are historically associated with 'risk on' trades." Value stocks in a Bloomberg index outperformed growth stocks by 1.8 percentage points Monday, poised for the biggest gap since 2016.
However, the concern goes beyond the day-to-day gains and losses among value stocks. Correlations between all investment factors are on the rise, according to Bernstein, increasing systematic risk for active investors. Linkages may only continue to tighten as the earnings season concludes, as investors pay more attention to global threats.
Not only have same-way factor moves ailed quantitative funds — which rely on the diversification benefit of multiple factors — but rising correlations also make it difficult for fundamental managers to scrub out unwanted factor risk, according to Fraser Jenkins, who recommends reducing active risk. "With growth becoming less synchronized, correlation on the rise and value no longer representing cyclicality, this is all evidence that we are heading towards a phase when growth will start to slow," Fraser Jenkins wrote.