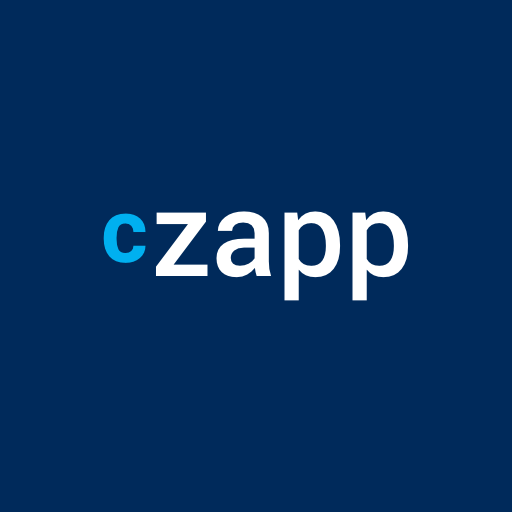 Opinion Focus
The 2023/24 cane season will be marked by stretched logistics in Brazil. Sugar truck freight rates are already 40% higher year on year. With record grains and large sugar crops, freight rates could double by September.
The news that Centre-South Brazil is set to have the second largest sugar crop on record is not new. Neither are the logistical risks we have been warning since the beginning of the year.
But most of the market seems to be focused only on the ports, looking at the probable size of vessel lines, delays in loading, and demurrage bills.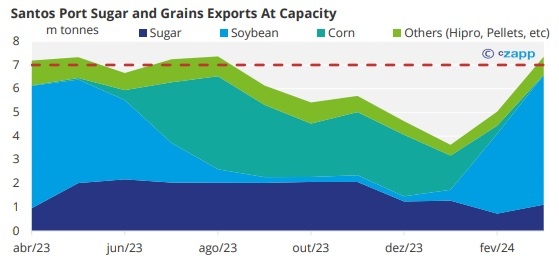 But there is another consequence of a record season. Increase of trucks freight rates…
High Starting Point
Sugar freight rates at the start of the year are already at record levels. The route from Ribeirao Preto to Santos is at BRL180/tonne, a 40% increase year on year.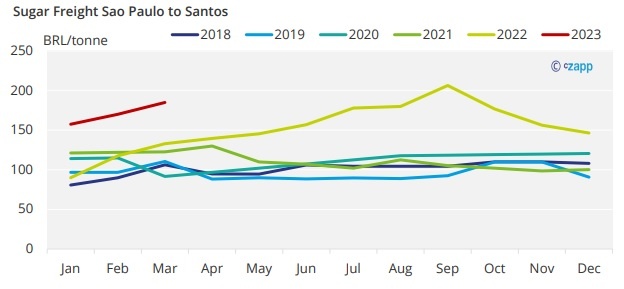 In an interview with Trato, they listed the reasons behind the high level of road freights: higher tyre prices, auto parts, general inflation, financing, and a record soybean crop.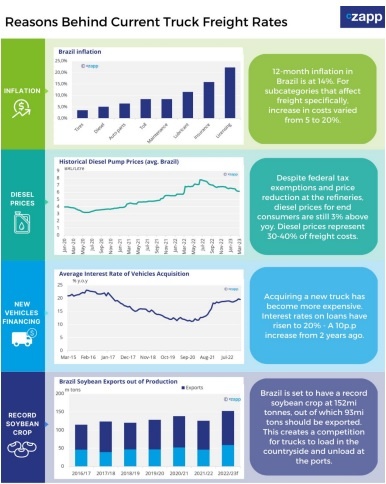 It is bound to get higher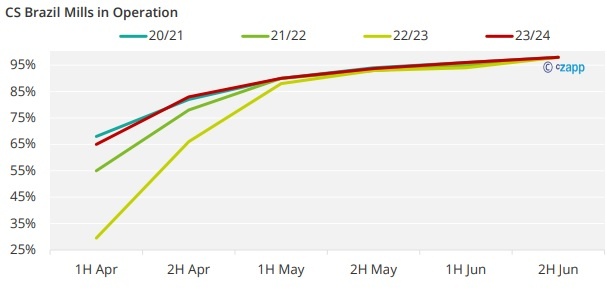 Sugar freight rates are high, and the season has just begun. The latest update in cane crush puts 20% mills in operation in the 2H of March, with over 80% expected to be operating at the end of April – a level like 2020/21, when CS Brazil sugar output surpassed 38m tonnes.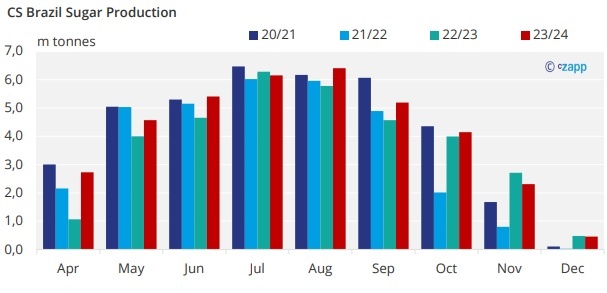 Sugar flow will gain momentum from May onwards, reaching a peak in August with output expected to surpass 6m tonnes.
Depending on the pace of nominations, road freights from Sao Paulo (specifically Ribeirão Preto region) to Santos could easily surpass BRL 250/tonne by September.
What are the consequences?
The main consequence for an increase in truck freight is the impact on sugar margins for producers. Since they sell raw sugar against No.11 sugar contract (which is FOB), the flat price is discounted by freight to the port and elevation to reach a net return.
Additionally, a higher sugar freight rate can make ethanol more competitive. Since ethanol is sold ex-works, freight costs are not something millers need to be concerned.
Would a high sugar freight rate ultimately affect sugar mix?
The farther from the port, the higher the freight rate. And coincidently, this logistical differential affects sugar mix decisions making frontier states less sugar oriented.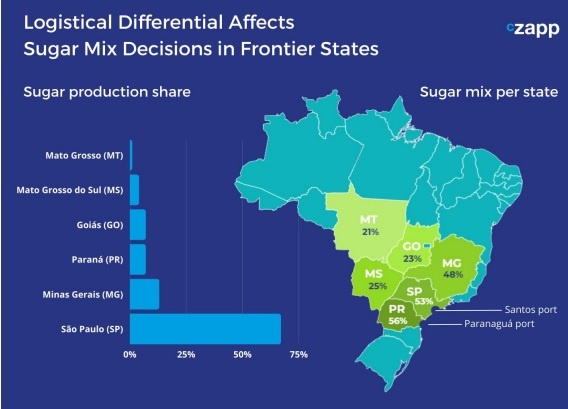 Using Sao Paulo state road freight as basis for the other regions rates, we forecasted ethanol and sugar parity for each region. Even if freight rates rise 30% at the peak of the season, it still would not be enough to compete with sugar returns – assuming today's flat prices and the forecasted floor for ethanol values for 2023/24.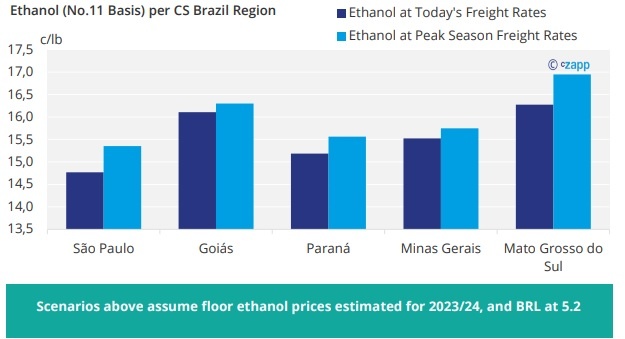 Sugar road freights would need to almost triple at the peak of the season in order to compete with sugar at current levels.
Higher freight rates also impact Consecana (i.e. cane prices) ATR prices. The price considered in the calculation is net of FOB costs.
A sugar freight rate 30% higher than initial estimates could reduce ATR prices by BRL 0,01/kg ATR. It might seem small, but for a mill with 500k tonnes of third-party supplier cane this means an economy of BRL600k.
Unsure How to Calculate Sugar and Ethanol Parity?
Head to our interactive session, on our Sugar or Ethanol report we added a calculator where the assumptions for prices and freights can be changed revealing the resulting parity.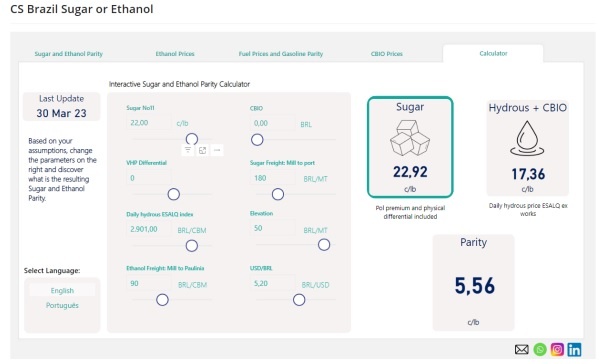 For more articles, insight and price information on all things related related to food and beverages visit Czapp.