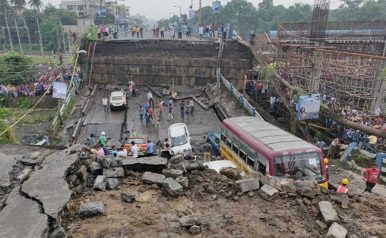 ChiniMandi: One of the prominent bridge of Majerhat, Kolkata has come under a collapse. Its half of the portion has been disintegrated and is being feared to trap five people under it.
The rescue mission has started by the locals and army has reached the spot. Eleven injured people are rushed to the SSKM Medical College and Hospital.
The bridge runs over the Majerhat railway station and connects Behala to other parts of the city.
The incident took place during peak hour. The traffic and movement on the Budge Budge-Sealdah railway line have been terminated for time being.