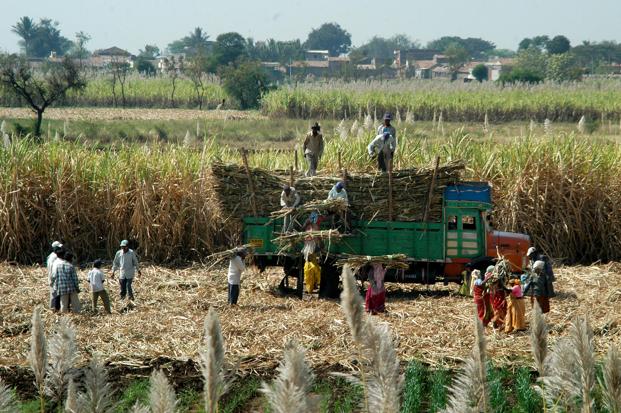 Image Credits: Livemint
Surat: Bumper sugarcane crop in the state is likely to bring smiles on the faces of common man as retail prices of sugar is likely to go down significantly. One kilogram of sugar that cost Rs 42 in March last year has come down to Rs 33-32 per kg in the retail market. Industry sources said the price will further go down in next couple of months as arrival of this season's sugar begins.
On Wednesday, sugar cooperative leaders had a meeting with government officials in Gandhinagar and fixed value of last year's sugar stock that was unsold at Rs 2,900 per 100 kg. This is Rs 500 lower than the stock value decided on March 28, 2017, for the year before stock.

Chairman, Gujarat State Cooperative Sugar Federation, Mansinh Patel told TOI after the meeting, "When there is a bumper production, rates go down. However, by creating a buffer stock of surplus and not letting sugar from other states to enter Gujarat, market prices can be stabilized for local market."
The meeting was attended by state cooperative minister Ishwarsinh Patel and other government officials, he added. Last year, sugar production in Gujarat was 8.6 lakh tonne of which 15% was still lying unsold. However, this year the production is estimated at 10 lakh tonne.
Therefore, the farmers who got Rs 3,500-4,000 per 100 kg sugar last year, will be getting Rs 2,600 to Rs 3,000 per 100 kg this year.
"The export price of sugar at international level is pegged at Rs 2,400 per 100 kg, so unless central government gives subsidy at zero per cent duty, farmer and sugar cooperatives would suffer heavy losses," chairman of Madhi Sugar Cooperative Samir Bhakta said.