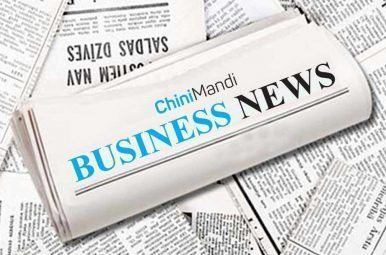 New Delhi, Aug 30 (PTI) Following are major business stories till 1930 hours today:
LD ECONOMY

New Delhi: India is likely to surpass the UK to become the world's fifth largest economy next year on growing consumption and strong economic activity, Finance Minister Arun Jaitley said today.
JAITLEY
New Delhi: Finance Minister Arun Jaitley today said the demonetisation of Rs 500/1,000 notes led to formalisation of economy, more tax collection and higher growth.
PANEL-AIRFARES
New Delhi: Some of the members of a Parliamentary panel have suggested that the government should look at linking airfares with inflation instead of dynamic pricing system and also cap the ticket prices, sources said.
RUPEE-CLOSE
Mumbai: The rupee slid further by 15 paise to close at a fresh lifetime low of 70.74 to the dollar due to strong demand for the greenback from oil importers and surging crude oil prices stoking inflation fears.
LD STOCKS
Mumbai: Benchmark indices Sensex and Nifty fell for the second consecutive session today as investors fretted over plunging rupee and rising crude oil prices, while August futures and options (F&O) expiry further added to market volatility.
RAHUL-JAITLEY
New Delhi: As the war of words over the Rafale deal escalated, Finance Minister Arun Jaitley said today that the fully weaponised fighter jets which his government is buying are 20 per cent cheaper than the ones offered under the previous UPA regime.
IT MINISTRY
New Delhi: The IT Ministry has issued an advisory against the deadly 'momo challenge', asking parents and guardians to protect children from the game which lures players into a series of violent acts, ending with a suicide dare.

GAS-PRICE
New Delhi: The government may from October raise price of domestic natural gas by over 14 per cent, a move that will translate into higher CNG price and increased cost of electricity and urea production.
PRABHU-RCEP
New Delhi: India will press for a balanced and inclusive outcome of proposed RCEP deal of 16 nations during a trade ministers' meet which began in Singapore today.
GST-FUNDS
New Delhi: As much as Rs 12,000 crore lying in Integrated GST or IGST pool has been apportioned between the Centre and states.
UTTARAKHAND-INVESTORS MEET
New Delhi: Prime Minister Narendra Modi will inaugurate on October 7 the Uttarakand's maiden investors summit in Dehradun where the state will showcase various investment opportunities in the existing as well as new sectors such as wellness and medical.
BULLION-CLOSE
New Delhi: Gold shot up by Rs 120 to Rs 31,200 per 10 gram at the bullion market today due to  increased buying by local jewellers amid a firm global trend.