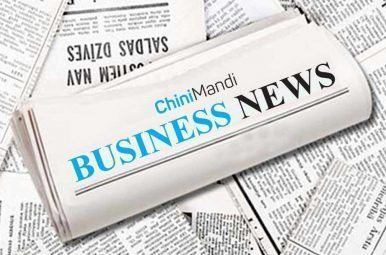 New Delhi, Aug 22 (PTI) Following are major business news stories till 1830 hours today:         
FinMin-Banks
New Delhi: In a stern warning to bankers, the Finance Ministry has asked chief executives of public sector banks (PSBs) to check all NPA accounts exceeding Rs 50 crore for fraud or they could face criminal conspiracy charges, according to official sources.

Disinvestment
New Delhi: The government today set the ball rolling for further selling of its stake in NBCC and HUDCO, in addition to an initial public offering (IPO) of the power sector company NEEPCO.
Jet Airways
New Delhi: The board of crisis-hit Jet Airways will consider cost reduction initiatives and turnaround plan along with June quarter results at its meeting on August 27, according to a regulatory filing.
Bullion-Close
New Delhi: Continuing its upward trend for the third straight day today, gold prices gained another Rs 50 to Rs 30,650 per 10 gram at the bullion market on the back of sustained buying by local jewellers amid firm global cues.
Tapi-Gas-Price
New Delhi: India has sought re-negotiation of the natural gas price it is to source through a proposed USD 10 billion Turkmenistan-Afghanistan-Pakistan-India (TAPI) pipeline in view of the slump in global energy markets, a top source said.
Import-Restriction-Biofuel
New Delhi: The government has imposed restriction on import of bio-fuels including ethyl alcohol and other denatured spirits, bio-diesel, petroleum oils and oils obtained from bituminous minerals other than crude, through an amendment in import policy.
Gic-Ld Provenance
New Delhi: Singapore's sovereign wealth fund GIC has acquired 49 per cent stake in realty firm Provenance Land for an estimated Rs 1,000 crore, according to sources.
Concor-Kandla-Pact
New Delhi: Container Corporation of India (CONCOR) has inked a pact with KICTPL for providing rail access to container services.
Flipkart
Bengaluru: India's largest e-commerce marketplace Flipkart today announced the launch of '2GUD', its first-ever independent platform for refurbished goods.
Samsung
Korean electronics major Samsung has "changed" its strategy for the mass and mid-price phones to bring in innovation across its smartphone range and not limit them to premium flagships, Samsung mobile chief DJ Koh today said.