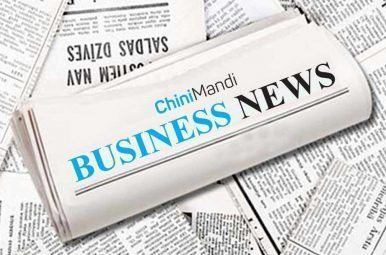 New Delhi, Aug 23 (PTI) Following are major business stories till 1935 hours today:            
Jaitley
New Delhi: Union Minister Arun Jaitley today resumed charge of the ministries of finance and corporate affairs after a nearly 100-day gap during which he underwent a surgery for kidney transplant.
Mobile Apps
New Delhi: The telecom department does not intend to impose blanket ban on messaging apps and platforms, but is seeking technical solutions to curb specific instances of misuse, Telecom Secretary Aruna Sundararajan said today.
Stocks
Mumbai: Benchmarks defied gravity for the fourth straight session today, riding on a rally in RIL which became the first Indian company to reach a market capitalisation of Rs 8 lakh crore.
ICICI Securities
New Delhi: ICICI Bank CEO Chanda Kochhar, who is on indefinite leave pending a probe against her in an alleged quid pro quo in loan sanctioning case, has offered herself to be reappointed on the board of ICICI Securities.
MCAP
New Delhi: Reliance Industries (RIL) today became the first Indian company to cross the Rs 8 lakh crore market capitalisation mark while its stock hit a fresh 52-week high.
Bullion Close
New Delhi: Gold slipped by Rs 30 to Rs 30,620 per 10 gram at the bullion market today on easing demand from local jewellers amid weak trend overseas.
Whatsapp
New Delhi: WhatsApp has rejected India's demand for a solution to track the origin of messages on its platform, saying building traceability would undermine end-to-end encryption and affect privacy protection for users.
Moodys India
New Delhi: The Indian economy is expected to grow by around 7.5 per cent in 2018 and 2019 as it is largely resilient to external pressures like those from higher oil prices, Moody's Investors Service said today.
Sugar Export
New Delhi: The food ministry today extended the deadline for exporting 2 million tonne of sugar by three months to December as only a fourth of it has been shipped so far.
Rupee Close
Mumbai: The rupee today sank 30 paise to close below the 70-mark against the US currency due to renewed worries about a hike in US interest rates amid global trade war jitters.
New Delhi: The Reserve Bank will conduct an examination for grade B officer posts on September 2 at various centres in Kerala for those who could not appear for it due to flood situation.
Kerala-Adani
New Delhi: Adani Foundation, the CSR arm of the Adani Group, has committed to giving Rs 50 crore for relief and rehabilitation of the Kerala flood victims, the group said today.
India-Exports-Kenya
New Delhi: India will explore opportunities to increase exports of petroleum products, cars and motorcycles, and mobile phones to Kenya during the joint trade committee meeting of the two countries beginning Thursday, sources said today.