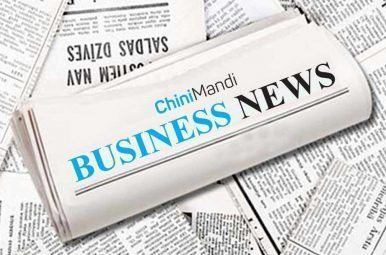 New Delhi, Aug 27 (PTI) Following are major business stories till 1915 hours today:
Diesel Record High

New Delhi: Diesel prices today hit a record high of Rs 69.46 per litre while petrol rates inched towards Rs 78 a litre mark after a fall in rupee made imports costlier.
Avild Biofuel Flight
New Delhi: Nofrills airline SpiceJet today operated India's first test flight powered by biojet fuel, marking a new chapter in the fastgrowing domestic aviation sector.
Par Panel Rbi
New Delhi: A Parliamentary committee has questioned RBI for failing to take preemptive action in checking bad loans in the banking system prior to the Asset Quality Review undertaken in December 2015.
Rupee Close
Mumbai: The Indian rupee today retreated sharply to hit a record closing low of 70.16 against the US dollar, plunging by 25 paise despite a huge rally in equities amid easing worries over nearterm monetary policy tightening by the US Fed.
Stocks
Mumbai: After a day's breather, the benchmark indices Sensex and Nifty resumed recordsetting rally to scale new peaks and logged their best singleday gains in nearly five months, tracking positive global cues as investors took heart from the US Federal Reserve's "gradual approach" comments on monetary policy tightening.
Coai Aadhaar
New Delhi: COAI has voiced concern over Aadhaarissuing body UIDAI's new norms on face recognition saying that some of the stipulated provisions impose additional cost and time burden on telecom firms and are against the tenets of ease of doing business.
Gold Close
New Delhi: Gold hit the Rs 31,000mark today by gaining Rs 100 to trade at over one month high on persistent buying by local jewellers amid festive buzz, even as the metal weakened overseas.
Gail Split
New Delhi: Oil Minister Dharmendra Pradhan today ruled out separating GAIL's gas transportation and marketing businesses but said the stateowned gas utility should divest its noncore petrochemical business at a good price.
Companies Panel
New Delhi: A governmentappointed panel today suggested restructuring of corporate offences under the companies law and an inhouse adjudication mechanism to ensure that courts get more time to deal with serious violations.
Fdi Growth
New Delhi: Foreign direct investment in India grew by 23 per cent to USD 12.75 billion during the AprilJune quarter of 201819, according to official data.
Rcom Sale
New Delhi: Anil Ambaniled Reliance Communications (RCom) today said it has completed the planned sale of optical fibre assets worth Rs 3,000 crore, to Mukesh Ambanibacked Reliance Jio Infocomm (RJIO).