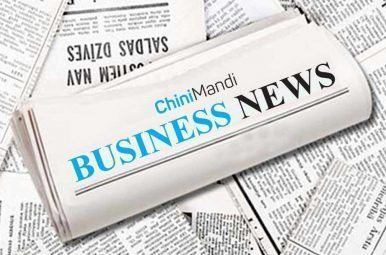 New Delhi, Sep 14 (PTI) Following are the top business stories till 1930 hours Thursday:
LD INFLATION

New Delhi: Inflation-based on wholesale prices eased to a four-month low of 4.53 per cent in August on softening of food prices, but experts warned that a sliding rupee and rising oil prices could prompt an interest rate hike by RBI.
 LD STOCKS
Mumbai: Benchmark Sensex spurted around 373 points Friday to reclaim the 38,000-mark as better-than-expected macro data and further recovery in the rupee triggered widespread buying.
RUPEE-CLOSE
Mumbai: The rupee Friday surged by another 34 paise to close at a one-week high of 71.84 against the US dollar on positive macro data and hopes of policy intervention by the government to defend the volatile currency.
MALLYA-SBI
New Delhi: India's biggest lender SBI said Friday there was no laxity on its part in dealing with loan default by now defunct Kingfisher Airlines of fugitive liquor baron Vijay Mallya.
AVI-DIAL-AIRPORT
New Delhi: Delhi airport operator DIAL has served notices to address issues related to 176 obstacles including buildings, trees and light poles, around the aerodrome that could pose threat to flights landing and taking off from there.
LD NCLT-SHIVINDER
New Delhi: The NCLT Friday allowed former Fortis Healthcare promoter Shivinder Mohan Singh to withdraw his petition against elder brother Malvinder Mohan Singh and ex-Religare chief Sunil Godhwani.
PETROL
New Delhi: Petrol and diesel prices Friday scaled new highs as rates were increased on account of rupee depreciation and rise in international oil rates.
PRABHU-TRADE
New Delhi: India will work along with other countries to reform the World Trade Organisation (WTO) to ensure that it continues to be an engine for global trade, Commerce and Industry Minister Suresh Prabhu said Friday.
STEEL-INDIA-US
New Delhi: Steel Minister Chaudhary Birender Singh Friday said negotiations are underway with the United States (US) over 25 per cent tariff it had imposed on steel imports.