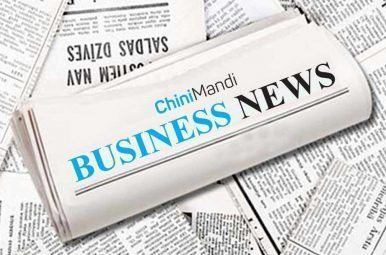 New Delhi, Sep 20 (PTI) Following are the top business stories till 1900 hours Thursday:
PM

New Delhi: Prime Minister Narendra Modi said Thursday the size of Indian economy will double to USD 5 trillion by 2022 with manufacturing and agriculture contributing USD 1 trillion each.
NITI-HEALTHCAREINSURANCE
New Delhi: As many as 27 states and Union Territories are ready to join the ambitious healthcare scheme Pradhan Mantri Jan Arogya Yojana after its launch on Sunday by Prime Minister Narendra Modi, a Niti Aayog member said.
JAITLEY-RAHUL
New Delhi: Finance Minister Arun Jaitley Thursday launched a scathing attack on Congress president Rahul Gandhi calling him "Clown Prince" and that he was "lying" about Modi government waiving Rs 2.5 lakh crore of loans of 15 industrialists.
PRABHU-SAFETY
New Delhi: Civil Aviation Minister Suresh Prabhu Thursday ordered a safety audit of all scheduled airlines and airports, amid recent incidents related to safety of passengers.
JET AIRWAYS
Mumbai: At least 30 passengers on a Jet Airways flight from Mumbai to Jaipur suffered nose and ear bleeding Thursday after the crew "forgot" to turn on a switch that controls cabin air pressure, officials said.
SMALL SAVINGS RATE
New Delhi: After a gap of several years, the government has raised interest on small savings, including NSC and PPF, by up to 0.4 per cent for the October-December quarter, in line with rising deposit rates in the banks.
GADKARI-DRIVING LICENCES
New Delhi: The government is preparing a database of driving licences to check issuance of multiple licences by different authorities to a single person, Union Minister Nitin Gadkari said Thursday.
RBI-PATEL-VIGILANCE
New Delhi: RBI Governor Urjit Patel said Thursday that preventive vigilance can be used as an effective tool of governance in public sector institutions, arguing that punitive vigilance may not yield the desired result.
IRAN-OIL-RUPEE
New Delhi: India may revert to paying Iran in rupees for the oil it buys from its third largest supplier as US sanctions will from November 4 block use of US dollars to settle such trades, a top official said Thursday.
WHATSAPP-NOTICE
New Delhi: The IT ministry is mulling sending a third notice to WhatsApp asserting that it bring in 'traceability' of messages on its platform, even as the American firm has maintained that doing so will impact end-to-end encryption and violate privacy of users.
SBI-MERGER
New Delhi: The country's largest lender State Bank of India Thursday said it is not in a position to acquire more banks at the moment as it needs 2-3 years to see gains from the consolidation effected last year.
FINMIN-DOLLAR VALUE
New Delhi: The Finance Ministry Thursday pegged the exchange rate for dollar at Rs 73.65 for calculation of import duty with effect from September 21, as against Rs 72.55 a fortnight ago.