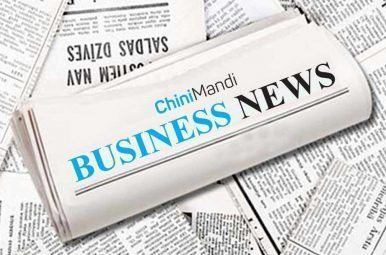 New Delhi, Sep 27 (PTI) Following are the top business stories till 1900 hrs Thursday:
RAFALE-HAL-SUPRIYO
New Delhi: Wading into the Rafale jets controversy, Union Minister Babul Supriyo Thursday indicated that Hindustan Aeronautics Ltd (HAL) lost on the deal because it quoted 2.57 times more man-hours to build fighter jets.

ELECTORAL-BONDS
New Delhi: The finance ministry Thursday said the fifth tranche of electoral bonds sale will take place from October 1-10.
STOCKS
Mumbai: Stocks spiralled lower for the second straight session Thursday after the US Fed hiked interest rates and struck a hawkish stance amid rising crude oil prices.
RBI
Mumbai: The Reserve Bank of India Thursday allowed banks to dip further into statutory cash reserves in a bid to ease a liquidity squeeze afflicting the nation's money markets.
YES BANK-BADLOANS
Mumbai: Private sector lender Yes Bank Thursday said it has not indulged in any window dressing of its corporate accounts to conceal non-performing assets (NPAs).
POWER LD TARIFF
New Delhi: Spot power price touched over nine-year high of Rs 15.37 per unit in the day ahead market (DAM) on Indian Energy Exchange for supply on Friday, mainly on account of higher demand.
BORROWING-RBI
New Delhi: The finance ministry and the Reserve bank of India (RBI) are scheduled to hold meeting on Friday to decide about the borrowing calender for the second half of the current fiscal.
POWER-MIN-THERMAL
Noida: Power Minister R K Singh Thursday asked state-owned energy producers like NTPC and DVC to secure more coal mines to augment electricity generation as thermal power will continue to be the base electricity provider in the country.
AGRI-SINGH
New Delhi: Agriculture Minister Radha Mohan Singh said Thursday if not his name, farmers across the country are at least aware of agricultural schemes in the current government when compared to the previous regime.
TRADE-RCEP
New Delhi: Trade ministers and senior officials of RCEP member countries, including India and China, will hold series of meetings in October to iron out issues hampering negotiations over the proposed mega trade deal, an official said.
UZBEKISTAN-TRADE
New Delhi: Issues including tariff reduction to promote trade, setting up of a business council, and expansion of economic relation will be discussed during the upcoming visit of Uzbekistan President Shavkat Mirziyoyev to India.