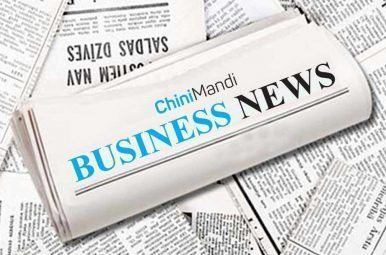 New Delhi, Nov 26 (PTI) Following are the top business stories at 1900 hrs
TAX-PANEL

New Delhi: The finance ministry Monday said the task force to draft a new direct tax law to replace the existing Income Tax Act will submit its report by February 28.
GOVT-AIRLINES
New Delhi: The government Monday said it was reviewing airlines' decision to charge passengers for any of the seats selected at the time of web check-in to ascertain whether the move is in compliance with existing rules
STOCKS CLOSE
Mumbai: Breaking its three-session losing spree, the BSE benchmark Sensex surged over 373 points on emergence of buying mainly in auto, FMCG and banking stocks as the sustained recovery in rupee and moderate crude oil prices buoyed investor sentiments.
RUPEE-CLOSE
Mumbai: Snapping its seven-day rising streak, the rupee Monday fell by 18 paise to close at 70.87 against the US dollar amid softening crude oil prices.
TAX-INDIA-CHINA
New Delhi: India and China have amended the bilateral tax treaty which will help prevent tax evasion by allowing the exchange of information, the Finance Ministry said Monday.
BROADBAND INDIA FORUM
New Delhi: Over-the-top (OTT) services providers should not be subject to a fresh set of regulations as their services are "not comparable" to that provided by telecom operators, Broadband India Forum President T V Ramachandran said Monday.
BULLION-CLOSE
New Delhi: Gold prices rose by Rs 100 to Rs 31,850 per 10 gram Monday amid buying by local jewelers and positive global sentiment.
NITI-GLOBAL COS
New Delhi: The Niti Aayog is exploring ways to encourage more domestic companies to be among the top multinational corporations in the world, the think-tank's Vice-Chairman Rajiv Kumar has said