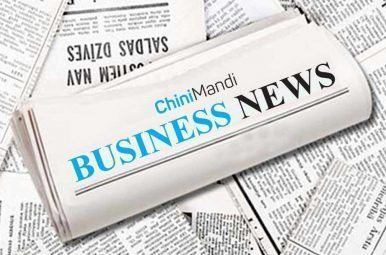 New Delhi, Nov 29 (PTI) Following are the top business stories at 1900 hrs
RUPEE CLOSE
Mumbai: The rupee vaulted 77 paise to a three-month high of 69.85 per US dollar Thursday, propelled by easing crude oil prices and fresh foreign capital inflows.

STOCKS CLOSE
Mumbai: The 30-share Sensex settled 453.46 points, or 1.27 per cent, higher at 36,170.41, while the broader NSE Nifty jumped 129.85 points, or 1.21 per cent, to finish at 10,858.70.
GDP CONTROVERSY
New Delhi: With eyebrows being raised over the involvement of the Niti Aayog in releasing revised GDP data for the UPA era, some in the government feel the controversy could have been totally avoided by keeping the think tank out of the announcement.
GDP LD JAITLEY
New Delhi: Finance Minister Arun Jaitley Thursday defended the revision in India's GDP growth rate during the previous UPA era, saying it was done by a "highly credible" organisation, the Central Statistics Office, which maintains an arm's length distance from the finance ministry.
BULLION CLOSE
New Delhi: Gold price fell by Rs 20 to Rs 31,540 per 10 gram at the bullion market Thursday on tepid demand from local jewellers amid appreciating rupee. On the other hand, silver recovered by Rs 60 to Rs 37,160 per kg on scattered enquiries from industrial units amid better global cues.
LD TCS
New Delhi: Tata Consultancy Services (TCS) Thursday said its employee hiring and retention decisions are based "purely on capabilities" and not on background or national origin, as a US jury ruled in favour of India's biggest IT firm in a case involving charges of discrimination.
LD NITI REFORMS
New Delhi: More reforms, low interest rates and greater availability of funds are needed to push India's economy to higher growth trajectory of over 8 per cent, Niti Aayog Vice-Chairman Rajiv Kumar said Thursday.
NITIAAYOG CHIDAMBARAM
New Delhi: Niti Aayog Vice-Chairman Rajiv Kumar Thursday accepted the challenge of former finance minister P Chidambaram for a debate on the revised GDP data which showed economic growth during the current NDA regime was better than that in the UPA rule.
PAYTM SHARMA
New Delhi: After becoming an almost household name in India, digital payments major Paytm has set its sight on dominating the Japanese market, a development that its founder Vijay Shekhar Sharma feels will be its "ticket" to the US — a "big country".
TWITTER ELECTIONS
New Delhi: Micro-blogging platform Twitter Thursday said it has recorded over 48 lakh tweets related to ongoing assembly elections in five states during October and November.