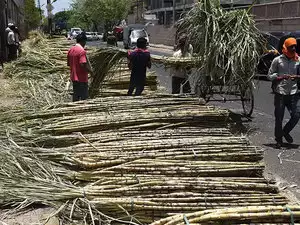 A second bailout package for sugar industry could be in the offing as the food ministry plans to float a Cabinet note seeking loan incentives for ethanol producers. This will be in addition to the sugar package announced in June, government sources said.
The mills may get up to 6% interest subvention on the loans they take to set up ethanol production units or increase capacity of the existing ones.

"A loan relief was provided to nearly 114 mills in June. Thereafter more mills had put in demand for similar benefits and the committee of secretaries was looking into the matter. The committee has approved the proposal and we will now seek nod from the cabinet," an official with food ministry said.
The Cabinet note is expected to be floated as soon as this week, the official said adding that cane harvest is underway and the government wants mills to get more involved in ethanol production.
In June, the government had allowed interest subvention of 6% for ethanol producers on loans up to Rs 4500 cr.
However, India's current ethanol production remains lower than the total demand.
The decision to boost domestoc ethanol production is aimed at not only reducing the stress in industry but also towards curtailing the huge oil import bill.
Of late, the government has been emphasizing switching to biofuels and aims to increase ethanol blending in petrol, diesel to 20% from current 10% by 2030.