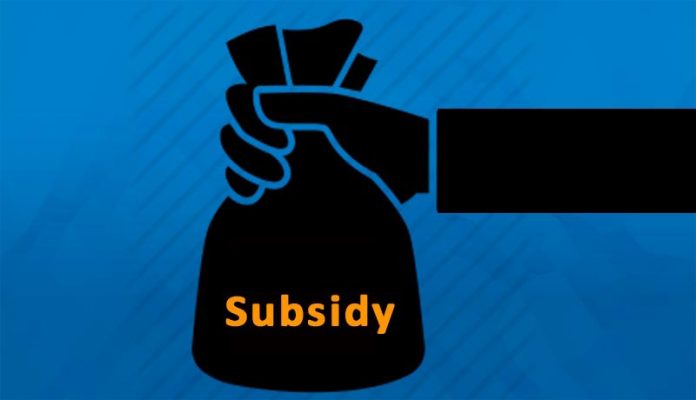 Image Credits: Taxscan
New Delhi, May 2 (PTI) The government today approved a production subsidy of Rs.55/MT for sugarcane farmers to help cash-starved millers clear cane arrears that have surged to about Rs 20,000 crore due to sharp fall in sugar prices on record production.

The Cabinet Committee of Economic Affairs has approved a production-linked subsidy of Rs.55/MT (Rs 5.5 per quintal) for cane farmers, sources said.
The move also comes at a time when Karnataka, a leading sugarcane producing state, is going for polls on May 12.
Welcoming the decision, industry body ISMA's Director General Abinash Verma said the industry is facing huge losses due to fall in ex-mill sugar prices.
He said the subsidy amount could be Rs 1,500-1,600 crore on the basis of sugarcane crushed by the
mills in the current 2017-18 marketing year (October-September).
Last month, an informal ministerial panel had explored options such as production-linked subsidy, imposition of sugar cess and reducing GST on ethanol to help sugar mills clear dues to cane farmers.
India's sugar production touched an all-time high of 29.98 million tonne (MT) till April 15 in the current season on higher cane output, leading to a surge in arrears to farmers at over Rs 20,000 crore, according to ISMA.
Sugar output of India, the world's second largest producer, stood at 20.3 MT in the 2016-17 marketing year. The annual domestic demand is estimated at 25 MT.
"Sugarcane arrears have touched about Rs 19,000 crore. We discussed this issue. There were several suggestions like production-linked subsidy, sugar cess and reduction of GST on ethanol from 18 per cent to 5 per cent," Food Minister Ram Vilas Paswan had told reporters on April 23 after the ministerial panel meet.
The Centre has already doubled sugar import duty to 100 per cent and scrapped export duty to check sliding domestic prices. It has also asked mills to export 2 MT sugar.
To clear cane arrears, the association has been demanding that the government provide production-linked incentive to cane farmers as it was done in 2015-16 marketing year.
In November 2015 too, the government had paid a production-linked subsidy of Rs 4.50 per quintal directly to cane farmers to help millers clear arrears.
Recently, ISMA had said sugar prices have been under severe pressure in the last 4-5 months and have fallen by Rs 9 per kg across the country. As compared to the cost of production, the ex-mill sugar prices are around Rs 8 per kg lower and the sugar mills are incurring substantial losses.
For more details, refer the following link. Which was published on April, 11th, 2018
http://35.200.243.219/sugar-producers-likely-to-get-export-subsidy-rs-7857-per-mt