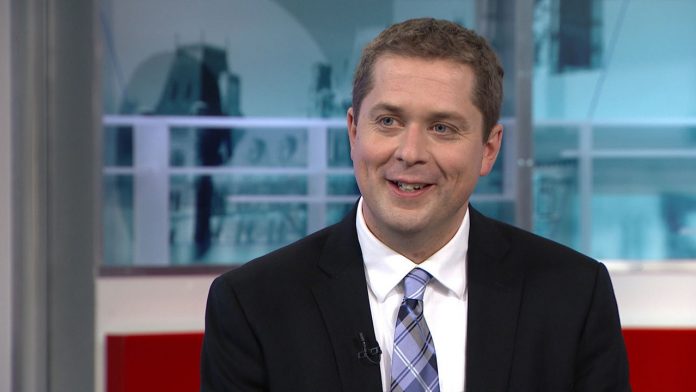 Toronto, Aug 22 (PTI) Canada's opposition leader Andrew Scheer has said that he plans to visit India to try to "repair and strengthen" bilateral ties six months after Prime Minister Justin Trudeau's "disastrous" state visit to the country "damaged" the relations.
Conservative Leader Scheer will take his team to India for nine days in October. He has plans to meet with senior government officials, business leaders and civil society and faith leaders, in a bid to shore up support among Canada's large Indian diaspora ahead of next year's general election here.
The legislative elections in Canada are due to take place on October 21, 2019 and Trudeau announced he will run for re-election.
"Standing with a united India is Canada's gateway to unprecedented human and economic development, and an essential alliance for Canada to strengthen in the face of shared threats," Scheer was quoted as saying by the Global News.
He also praised India for being the world's largest democracy and having one of the fastest-growing economies, saying the country "in recent years is transforming into a rising power in the vast Indo-Pacific region and beyond."
"A Conservative government will dramatically expand the strategic relationship between our countries and our peoples and advance our shared security, prosperity and values. Unfortunately, Trudeau's disastrous trip to India damaged this key relationship and we must now work to repair it."
Trudeau's nine-day sojourn to India last February is likely one the Liberals wish they could erase after numerous missteps damaged his reputation both at home and abroad, the report added.
There's no itinerary yet available for what Conservative officials say will be a business-oriented trip by Scheer, with no Taj Mahal photo ops, the report said.
Brock Harrison, a spokesman for Scheer, said India is "an important strategic partner for Canada for a number of reasons," adding that Scheer believes there is "work to do" to strengthen the relationship between the two countries.
India is one of the world's fastest growing economies, displacing France for sixth place among the world's nations last year, yet trade with Canada remains sluggish.
In 2012, the former Conservative government set a goal of increasing two-way trade to 15 billion dollars by 2015. In 2017, it was about 8.4 billion dollars.