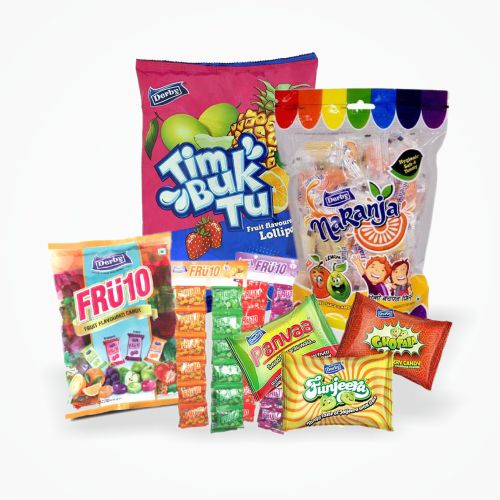 Consumption patterns of people across the globe have been tremendously affected due to the outbreak of Covid-19 pandemic. While the uncertainty of the pandemic continues to persist throughout the globe, its impact is felt differently across countries, industries and sectors. As a result, there is a significant variance in how consumers have been responding to the crisis and adapting to the next normal.
We recently spoke to Mr. Ankur Shah, Director – Derby Candies (Suncrest Food Makers) a prominent name in the manufacturers category of candies, toffees, lollipops, eclairs etc. Sharing views on the major changes in consumption since the pandemic with regards to consumer preference, changing trends, food laws, pandemic and much more. He said, "Majority of the confectionery sold in India is in denominations of ₹ 1, ₹2 & ₹5. One of the changes seen in the consumer behavior post pandemic is the increase in buying of consumer packs below MRP ₹ 100."

"Another noticeable change is in our channel partners like distributors & retailers, who have now become more conscious & cautious about manufacturing dates products. In the case of sugar boiled confectionery, although it's life is for 12 months, the retailers & distributors resist goods aging more than 2 months." He further added.
Commenting on the various extra measures taken while procurement of sugar, Shah said, "We have been following best practices for procurement even before the pandemic, however we now have to ensure the sanitization of the vehicle & material before unloading along with other legal guidelines issued specific to pandemic. We would like to request sugar millers to improve their storage facilities along with inspection of vehicles before loading. We often receive damaged stocks, which happens either during storage or in transit."
On being asked on how the post covid-19 recovery has been and how he sees the demand of confectionaries rolling ahead, Mr. Ankur answered, "Covid-19 had impacted every industry including the confectionery and candy industry, although for a short term. Early sales data of the candy market across the world registered a steep decline in the category of gums and mint as a result of Covid-19, while chocolates, candies, as well as non-chocolate candy, continues to attain strong growth. We have recovered 80% of the monthly average business in domestic & will soon recover upto 100% by March 2022. We are positive about the growth in demand for confectionery with new innovative products."
"Candy products have acquired a prominent place in households all around the world despite Covid-19 lockdowns. The preference for sweet indulgence has been increasing due to more consumers working from home. Candies are observing high growth in the global markets owing to the recent developments in the flavors, their appearance, and mouth-feel. Majority of the manufacturers are also focusing on product development in line with the organic food culture across the globe. Also, with a constant emphasis on clean-labeled products, more stringent government norms /regulations on the amount of sugar content in food products, organic, vegan, GMO-free, sugar-free, food colors, sweeteners, and other ingredients which are being used to manufacture candies are likely to contribute to the growth of the category."
Of late, there have been many campaigns on sugar being unhealthy, sharing insights on how Derby is with it and diversifying its products Mr. Ankur said, "We launched sugar-free candies around a year back & the response was good, following which we launched four new flavors in sugar-free candies in January 2022. However, the share of sugar free candies is still comparatively much below the sugar boiled confectionery items, mainly because the price of sugar-free candies is 4 to 5 times higher than the sugar boiled confectionery products."
We asked Mr. Ankur Shah how Derby has been a confectionary domestic brand to a prominent exporter, how has the transformation been over the years and how the organisation is adding an element of green in its operations aligning to India's mission to achieve a green economy. He shared, "The journey of being a prominent exporter along with growing in the domestic market was initially not easy. Majority of exports of sugar boiled confectionery products are in African countries where the taste & packaging preferences are different from what we have in Indian markets. We had to study many minute aspects thoroughly to attain the right space and market share in those regions.
We are striving our best to add more green to our business operations. We recently moved to our new manufacturing unit with enhanced infrastructure, where we are using piped natural gas as fuel, instead of coal which is still preferred by maximum manufacturers because of lower costs."