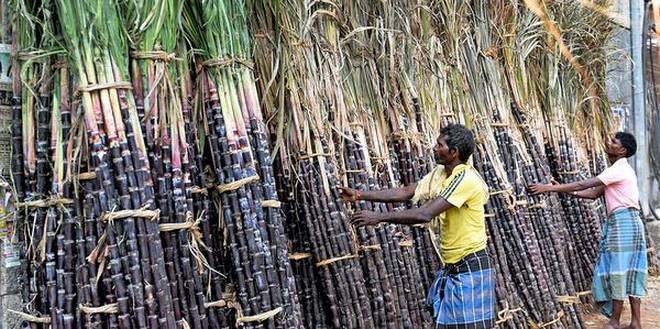 Sugarcane arrears to farmers have come down to Rs 16,600 crore from the peak of Rs 23,232 crore in May-end due to various measures taken by the government to help the sugar industry, Parliament was informed today.
In a written reply to Lok Sabha, Minister of State for Food and Consumer Affairs C R Chaudhary said the liquidity position of sugar mills has improved with increase in the ex-mill prices of sugar to Rs 30-33 per kg from 24.5-26 per kg in May.
The cane price arrears peaked to Rs 23,232 crore at the end of May based on the State Advised Price (SAP) fixed by the state governments, he said. On the basis of the Fair and Remunerative Price (FRP) announced by the Centre, the peak arrear was Rs 14,538 crore.
The minister said that the arrears were high due to fall in sugar prices because of record production.
"As a result of various measures taken by the government, the cane price arrears have come down to Rs 8,153 crore and Rs 16,600 crore on FRP and SAP basis, respectively, as on July 27, 2018," Chaudhary said in a statement.
In reply to a separate question, he said sugar production is estimated to increase to 322 lakh tonnes in the 2017-18 marketing year (October-September) as against 202.27 lakh tonnes in the previous year. The annual domestic demand is pegged at 250 lakh tonnes.
To improve the liquidity position of sugar mills and help them in clearing arrears, the minister informed that the Centre has announced an assistance to mills of Rs 5.50 per quintal of cane crushed, amounting to Rs 1,540 crore.
The Centre has also created a buffer stock of 30 lakh tonnes, which will have a burden of Rs 1,175 crore on exchequer.
It will also provide a soft loans of Rs 4,440 crore to mills for creating ethanol capacity. The government will bear an interest subvention of Rs 1,332 crore.
"Notified the sugar price (control) order 2018 and there under fixed the minimum selling price of sugar at Rs 29 per kg for sale of factory gate in domestic market, below which no sugar mill can sell sugar," the minister said.