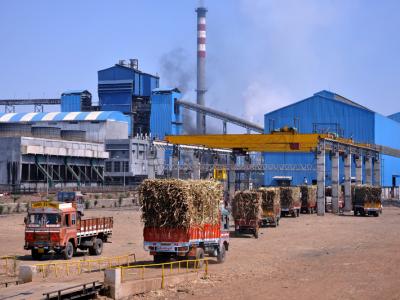 Image Credits: lokmat.com
Mills are losing as much as Rs 63 on purchases of each quintal of cane at the benchmark price fixed by the Centre, based on the Rangarajan panel's linkage formula, which is the root cause of their "huge financial crisis" as well as the Rs 19,780-crore cane arrears piled up as of March 31, according to a submission by the Indian Sugar Mills Association (Isma). If the cane price fixed by states like Uttar Pradesh is taken into account, the strain on mills' finances will be much larger. Apprehending coercive action after food and consumer affairs minister Ram Vilas Paswan wrote to chief ministers of key states, seeking strict action against defaulters, sugar mills have now complained the Centre "isn't appreciating" the real nature of this crisis. In fact, they have asked the government to consider ways to reduce cane plantation.
In a strongly-worded letter to food secretary Ravi Kant on April 13, Isma president Gaurav Goel has flagged a range of issues — exorbitantly high benchmark prices fixed by both the Centre and states, drastic fall in sugar prices this year and consequent reduction in working capital loan, and a record production that has resulted in a massive unsold surplus inventory — to suggest that it's not that the industry is unwilling to pay farmers on time but mills are simply "not generating adequate revenue".
Given that ex-factory sugar prices have crashed around 23% this marketing year that began in October 2017 to Rs 2,800 per quintal now, the price payable to cane farmers in accordance with the Rangarajan panel's linkage formula works out to around Rs 226.80 per quintal, Goel argues. However, dues, based on the fair and remunerative price (FRP) fixed by the Centre, effectively drives up the cane rate to Rs 290 per quintal for 2017-18, factoring in an average all-India recovery of 10.8%. This leaves a gap of Rs 63.20 per quintal, which mills are being forced to bear, according to the letter.
Since mills would be crushing an estimated 285 million tonne of cane this year, the total cane dues will touch `82,650 crore (based on FRP alone). Since mills have crushed an estimated 263 million tonne of cane until end-March, the "unpayable" cane arrears, based on the Rangarajan panel formula, work out to Rs 16,622 crore (not much lower than that of Rs 19,780 crore), the letter suggests, requesting the government to take steps to help mills bear the burden.
The panel had in 2012 suggested that farmers be paid 75% of mills' realisations from sugar for cane supplies, or 70% of sales proceeds from sugar and other cane byproducts like bagasse, molasses and pressmud. The industry body has now requested the food secretary to apprise senior ministers, including Paswan, and other government functionaries of the real nature of the crisis gripping the sugar sector. When contacted, an Isma spokesperson confirmed the industry body has written to the food secretary.
The centre has taken a raft of measures, including doubling the customs duty to 100% to prevent cheaper imports and scrapping an export duty and making it mandatory for mills to export a certain portion of their production. However, as repeatedly pointed out by analysts, since the basic issue of cane pricing reform remains unaddressed—more so in states like Uttar Pradesh–arrears are bound to rise when sugar prices fall. Exports are currently not viable, as global sugar prices are still a lot cheaper than the Indian rates.
In the letter, Goel also argues the 50-60% higher returns from cane vis-a-vis other competing crops–thanks to the elevated prices of the commodity fixed by the centre and states like Uttar Pradesh–remain the main reason why farmers still grow this crop in a big way, despite the arrears. Since the law of the land mandates that sugar mills can't refuse to buy cane from farmers, they are forced to crush and produce surplus sugar even at the risk of further straining their balance sheets, he suggests.
Compounding mills' problems, the 22% fall in ex-factory sugar prices in 2017-18 has prompted banks to cut down on their working capital loans, which are based on the value of stocks. On top of this, a record harvest of around 30 million tonnes so far has created a massive unsold inventory, leaving mills strapped for cash, the letter says. "We are unable to reduce our sugar production even though we continue to make losses, only because farmers have already grown sugarcane. In fact, the government should examine ways how to reduce sugarcane production…," the letter said.