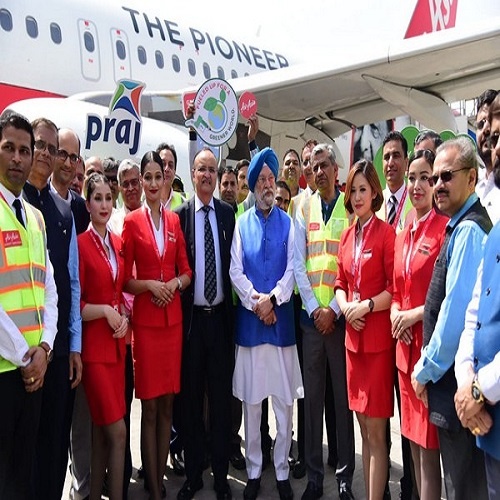 New Delhi [India], May 19 (ANI): Minister of Petroleum and Natural Gas Hardeep Puri on Friday said that the blending of 1 per cent sustainable aviation fuel in flights for nationwide operations will be completed by mid-2025.
"Today, I received crew and passengers who took the first commercial passenger flight from Pune to Delhi powered by indigenously produced sustainable aviation fuel (SAF). It's the beginning of a new chapter in sustainable aviation fuel (SAF). Today, we have started with the 1 per cent blending of SAF in one flight, which will be taken to 1 per cent in all flights by mid-2025," Puri said during a press conference.
"We will make this a 1 per cent norm, then we will bring up it to 5 per cent," he added.
He added all flights will operate with fuel with 1 per cent of SAF once this norm comes in effect.
"By 2025, if we target to blend 1 per cent SAF blending in Jet fuel, India would require around 14 crore litre of SAF per annum. More ambitiously, if we target for 5 per cent SAF blend, India required around 70 crore litre of SAF per annum", the Minister informed.
Sustainable Aviation Fuel (SAF) is a cleaner and more sustainable alternative to conventional jet fuel, lowering carbon emissions by up to 80 per cent over the fuel's life cycle, depending on the feedstock.
Describing the occasion as a significant milestone in the country's efforts towards net zero emissions by 2070, Hardeep Singh Puri said, "I am glad to witness this historic occasion and receive the first commercial flight fuelled by SAF blended ATF. This would be the first domestic commercial passenger flight with SAF blending up to 1 per cent as demonstration mode."
Congratulating the homegrown giants in their respective sectors, IndianOil, Air Asia, and Praj Industries, Puri reiterated the vision of Prime Minister Narendra Modi for an Atmanirbhar Bharat by developing indigenous solutions to mitigate the environmental impact of aviation and pave the way for the widespread adoption of SAF in India. S M Vaidya, Chairman, IndianOil; Aloke Singh, Managing Director, AirAsia and Aloke Singh, Managing Director, AirAsia were also present on the occasion.
Highlighting the need of alternative and sustainable fuel sources, Hardeep Singh Puri said, "In recent years SAF production technology has progressed significantly. Unlike traditional jet fuels, SAF is produced from renewable sources such as agricultural waste, municipal solid waste, and forestry residues. This means that SAF has the potential to reduce greenhouse gas emissions by up to 80 per cent compared to conventional jet fuel". (ANI)