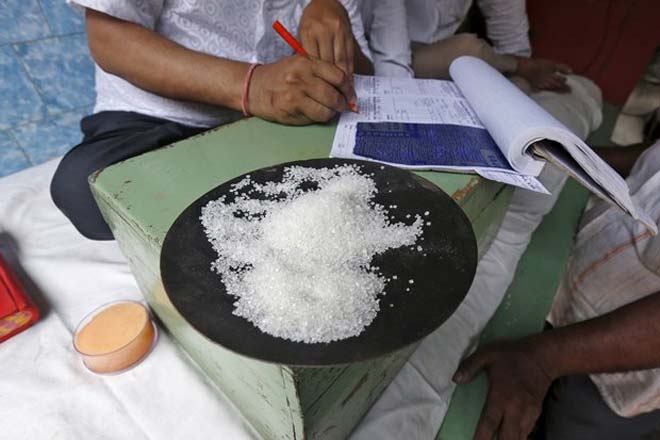 Image Credits: Financial Express
Request to increase subsidy to Rs. 28.5/kg also turned down
The Union government has turned down the request of the State government for extending the coverage of subsidised sugar to all priority household cardholders in the State.
It has also decided against increasing the subsidy burden. But, the subsidy would remain at Rs. 18.5 per kg, which would be given only to Antyodaya Anna Yojana (AAY) cardholders, representing the poorest of the poor.
With the implementation of the National Food Security Act in the State since November 2016, the AAY cardholders are now considered part of the priority household (PHH) cardholders. The total figure of PHH cardholders is about 95.3 lakhs, of which AAY cardholders account for 18.74 lakh and the rest, 76.56 lakhs.
The State government, through its representations in June and August 2017, wanted the amount of subsidy to be hiked to Rs. 28.5 per kg for all PHH cardholders.
In T.N., sugar is being sold through fair price shops at a rate of Rs. 13.5 per kg for the AAY category and at Rs. 25 per kg for all others. To ensure that all the cardholders get subsidised sugar, the State government is providing a subsidy of Rs. 17/kg-Rs. 20/kg, as the price is around Rs. 42/kg-Rs. 45/kg in the open market, says a senior official in the Food and Civil Supplies Department. On an average, the State requires around 33,600 tonnes of sugar every month for its cardholders. It gets around 1,860 tonnes of subsidised sugar from the Centre. The remaining has to be procured in the open market.
On Friday, the Centre's decision on its position on the subsidised sugar was conveyed in a written reply by Union Minister of State for Consumer Affairs, Food and Public Distribution C.R. Chaudhary to Member of Parliament V. Maitreyan in the Rajya Sabha.