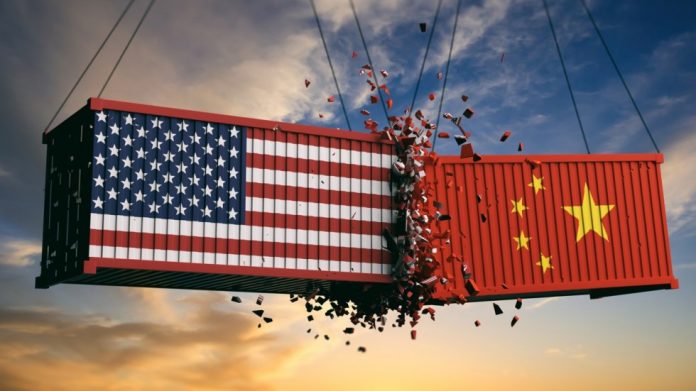 China today said its economic growth slowed slightly in the second quarter as a trade war with the United States gained pace, while it warned of the global damage that could be caused if the row persists.
The world's second-biggest economy expanded 6.7 per cent in April-June, down from 6.8 per cent in the first quarter and in line with a forecasts in an AFP survey of economists.
The data was released just as European Council President Donald Tusk said at an EU summit with China in Beijing that trade tensions could spiral into a "hot conflict", calling on the US, China and Russia to find a resolution.
Despite the quarterly deceleration, growth was still higher than the annual target of around 6.5 per cent set by the government, but China nevertheless faces an "extremely complex environment both at home and abroad", said Mao Shengyong, a spokesman for the national statistics bureau.
Beijing faces a multi-front battle to defend its economy, fighting to cut its debt mountain while the yuan currency and Chinese stock markets tumble. "World trade protectionism continues to heat up, posing a major challenge to the world economic recovery and adding challenges and uncertainties for us," Mao said. "From our domestic perspective, economic development has still been unbalanced and unstable, and is still in the process of structural adjustment and transformation."
The impact of the deepening trade conflict with the United States was yet to fully kick in, Mao said, noting that Beijing would continue to assess the situation in the second half of the year.
But he added that the fight "will have an impact on the economies of both China and the United States, and now that the world economy is deeply integrated, and the industrial chain is globalised, many related countries will also be affected", Mao said.
The dispute with Beijing comes on top of Washington's confrontations with other major trading partners including Canada, Mexico and the European Union, which have also retaliated against the US.
Washington and Beijing imposed tit-for-tat tariffs on USD 34 billion of goods this month and the US raised the stakes last week by threatening to impose measures on another USD 200 billion worth of goods, prompting China to vow retaliation.
Over the past decade, about 20 per cent of China's exports have gone to US markets, according to Moody's Investors Services, with exports still accounting for a sizeable chunk of the giant economy.
Trump's latest threat would mean Washington will have imposed tariffs on around half of China's total exports to the United States.
"China's economy appears to be on a slowing path. The government seems to be easing policy gently… despite its goal of minimising financial risks," said Alaistair Chan of Moody's. "Trade disputes with the US have hurt market sentiment, and investment is also cooling."
Beijing's battle against debt has curtailed spending — with growth in fixed asset investment slumping to 6.0 percent in the first half of the year, the slowest pace on record.
Manufacturing activity also slowed in June, as did output at factories and workshops. Although trade data last week showed China's export machine holding up, analysts warned the numbers may have been inflated by exporters pushing out shipments early to beat the scheduled tariffs.
Retail sales, a key gauge of Beijing's campaign to rebalance its economy toward domestic consumption, provided a bright spot, growing 9.0 per cent in June. The yuan's slide is hurting Chinese consumers while helping exporters who face the higher US tariffs.
"The upshot is that the statistics bureau is now starting to more publicly acknowledge that the economy is losing steam," said Julian Evans-Pritchard, China economist at Capital Economics, wrote in a research note. "This should make it easier for officials to justify shifting to a more supportive policy stance." The statistics bureau said economic progress must be balanced with "maintaining stability", indicating supportive policy measures could be rolled out as needed.
Noting the fall in infrastructure investment, Mao said "compliant projects may come to fruition at a faster pace" in the second half of the year.
China's central bank has taken steps to free up funding for small firms, and some analysts forecast an interest rate cut to stimulate the economy.