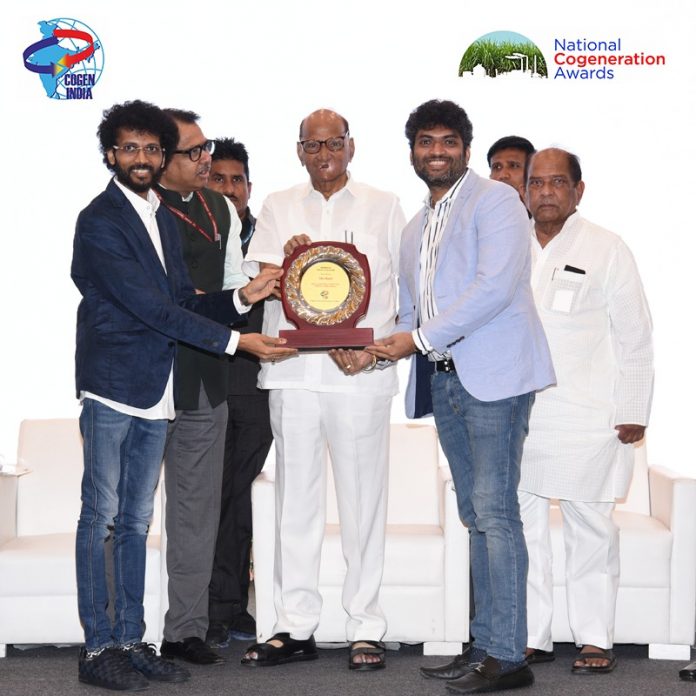 ChiniMandi received the prestigious award at the National Cogeneration Awards 2023 organized by Cogeneration Association of India (Cogen India) today in Pune, Maharashtra. The award ceremony took place at Hotel Tip Top International in Wakad.
The award comes as a recognition of the contribution and efforts made by ChiniMandi in the area of news and information especially curated for the sugar industry, allied industries and its stakeholders. The award was received by the co-founders of the company Mr. Uppal Shah and Mr. Hemant Shah.
The award ceremony was graced by NCP President, Shri Sharad Pawar ji and other senior dignitaries. On this occasion, Shri. Subhash Kumar, Ex- Chairman and Managing Director
Oil & Natural Gas Corporation Ltd & Director, ACME Solar Holdings, Shri. Narendra Mohan, Director of National Sugar Institute, Kanpur (NSI), Shri. Jaiprakash Dandegaonkar, Vice President of Cogen India, Shri. Sanjay Khatal, Director General of Cogen India, Shri. Ravi Gupta, Executive Director, Shree Renuka Sugars, Shri. Dr. S.S.V. Ramkumar, Senior Vice President, Hydrogen Association of India, and Ex-Director (R&D) Indian Oil Corporation Ltd,  Mrs. Anita Khatal, Chief Coordinator and many other dignitaries were present.
ChiniMandi received the award from none other than Shri Sharad Pawar ji. On receiving the award, Uppal Shah, Co-founder & CEO of ChiniMandi said, "It's a matter of great satisfaction and pride that ChiniMandi received this prestigious award. It's a recognition of our hardwork and sincerity. This will encourage us to keep going ahead".
The Cogeneration Association of India represents the private and cooperative sugar mills in the country having cogeneration power plants. The awards given today acknowledge achievements both individually and for institutions mainly in five categories – Best Cogeneration Power Plant, Best Cogen Manager, Best Instrument Manager /In-charge, Best DM / WTP In-charge / Manager, and Best Electrical Manager. The top winners in Best Cogen Power Plant were- Nirani Sugars Ltd. (Karnataka), Balrampur Chini Mills Ltd.(Akbarpur- Uttar Pradesh), Shree Datta SSK Ltd. (Shirol- Maharashtra), Chidanand Basaprabhu Kore SSK Niyamit Chikodi (Karnataka). A total of 45 awards were given today.