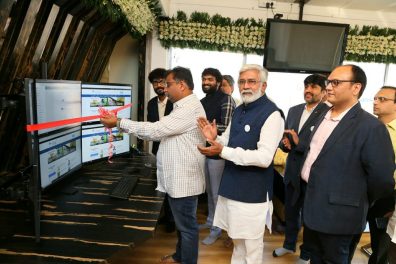 Mumbai: Where the Honorable Prime Minister is aiming towards Digital India, few traders of the Sugar Industry have tried to contribute their part through adding a spice of digitization in the traditional business of the Sugar Industry.
ChiniMandi, a pioneer for the sugar industry in India holding its staunch & robust monopoly presence being a News & Informative Portal through the market, has scaled glorifying height in a short span of time having majority of the industry's people referring the portal on daily basis.

ChiniMandi.com officially registered with Registrars of Newspapers for India (RNI Number MAHMUL03651) officially launched its mobile application on Sunday, 9th Dec. 2018 by the hands of Hon.Ravindraji Chavan – Maharashtra Minister of State Information and Technology, Ports, Medical Education, Food and Civil supplies, Consumer protection. The Minister said, "India is a unique country and has peculiar needs such as localized content, adaption of technology to suit our culture, usage patterns as per the specified industry. I am proud to see ChiniMandi building solution for our people right here."
Addressing the occasion the Co-founder and CTO, Mr.Uppal Shah said, "We are committed to take efforts which would fulfill the needs of the Sugar Industry and make the channels of any avenue in the industry seamless. Our first step of providing News & Information has been taken months ago, we will ensure that no stone is left unturned in providing the best to the industry whenever and wherever required." He also added that the app offers an easy-to-use way to quickly get the Sugar Industry news. ChiniMandi delivers the stories you need to know from every corner of the world related to the sugar fraternity. ChiniMandi News App makes you swiftly move from one story to another from section to section.