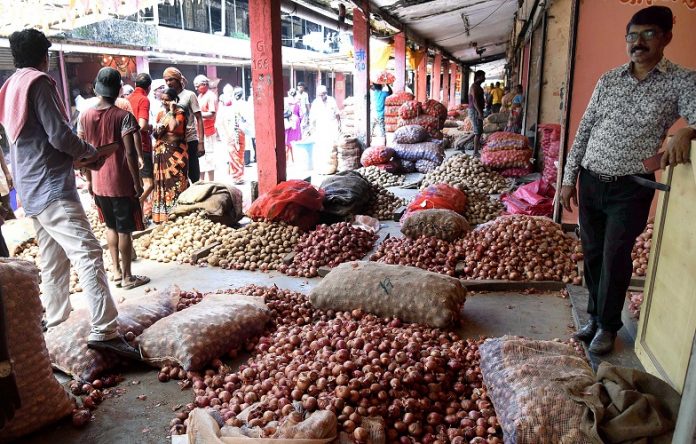 Mumbai (Maharashtra) [India], August 22 (ANI): Maharashtra Chief Minister Eknath Shinde welcomed the steps taken by the central government to procure an additional two lakh tonnes of onion from farmers in Maharashtra.
In a joint press conference along with Maharashtra Deputy Chief Minister Ajit Pawar, Eknath Shinde said, "I thank Prime Minister Narendra Modi, Amit Shah and Piyush Goyal as we requested them to take steps to give relief to onion cultivators. Even Agriculture Minister Dhananjay Munde went to Delhi yesterday. Deputy Chief Minister Devendra Fadnavis in Japan also discussed the issue along with Deputy Chief Minister Ajit Pawar."
"NAFED took the decision of procuring an additional 2 lakh tonnes of onion. We are getting help from the Centre. It is a new benchmark. As a state Chief Minister, I thank you again for this decision," he added.
"The state government is standing behind the support of farmers. The Prime Minister went on a visit to South Africa. Before going he took this decision. There was a discussion about increasing onion prices, new technology will also be used. Farmers will get the benefit," Eknath Shinde said.
Slamming Nationalist Congress Party (NCP) chief Sharad Pawar's criticism of the centre imposing 40 per cent duty on onion exports, he said, "Pawar sahab needs to welcome it. He had been the Agriculture Minister earlier when similar circumstances in onion prices used to prevail."
Asking all political parties not to "politicise" the issue, the Chief Minister said "No one needs to politicise this. They need to stand by Kisans and give suggestions to the state government.
The central government has started the procurement of an additional two lakh tonnes of onion from farmers in Maharashtra on Tuesday. The decision to procure this additional stock comes as a relief to Maharashtra's farmers.
The announcement of the start of procurement was made after a meeting between Union Minister Piyush Goyal and Maharashtra Agriculture Minister Dhananjay Munde in Delhi.
"The central government always works in the best interest of farmers and buys their produce from time to time… NCCF and NAFED on the direction of central government had procured 3 lakh tonne onions from various parts of Maharashtra, which in the process increased the prices. To create a balance between farmers and consumers, the government has imposed a 40 per cent export duty on onion. This is to ensure domestic availability," Goyal told ANI. (ANI)