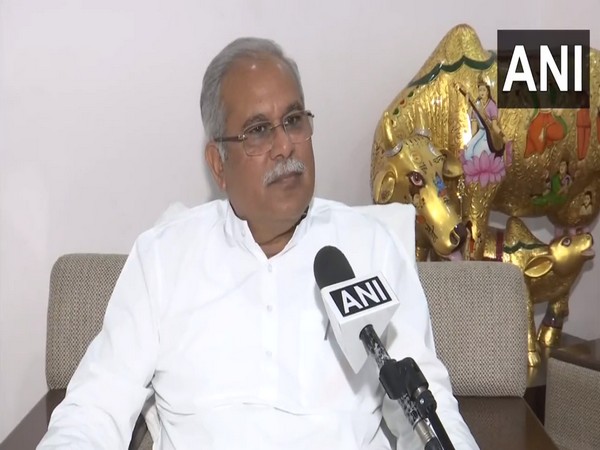 Raipur (Chhattisgarh) [India], October 23 (ANI): Ahead of two-phase Assembly elections in the state, Chief Minister Bhupesh Baghel on Monday announced that Congress will waive loans of farmers if voted to power in Chhattisgarh again.
"We will waive loans of farmers if we are voted to power and form government in the state again," Bhupesh Baghel posted on X, ahead of polls.
The Chhattisgarh Chief Minister said that there are more than 22 lakh farmers in Chhattisgarh who will get direct benefits.
Taking to X, Baghel said that his government would conduct a caste census, buy 20 quintals/acre of paddy, and provide housing to 17.5 lakh families in the state.
"Today the fourth announcement is dedicated to our farmers. So far we have made 4 announcements. Like before, this time farmers' loans will be waived. Will conduct caste census, Will buy 20 quintals/acre of paddy. We will provide housing to 17.5 lakh families. Janta ka bharosa hai barkarar. Phir se Congress sarkar," Baghel posted on X.
The filing of nominations for the Madhya Pradesh assembly elections and for the second phase of Chhattisgarh assembly polls started on October 21.
The last date for the nominations in Madhya Pradesh for all 230 constituencies and in Chhattisgarh for 70 out of a total of 90 constituencies will be on October 30.
Earlier yesterday, Congress announced its third and final list of seven candidates for the Chhattisgarh Assembly elections, fielding party leaders Ambica Singh Deo and Omkar Sahu.
The ruling party fielded Ambica Singh Deo from Baikunthpur, Chaturi Nand from Saraipali, Ambina Markam from Sihawa and Omkar Sahu from Dhamtari.
The elections for the 90-member Assembly of Chhattisgarh will be held in two phases.
The first phase of polling for 20 seats will be held on November 7, and the remaining 70 seats will go to polls on November 17. (ANI)