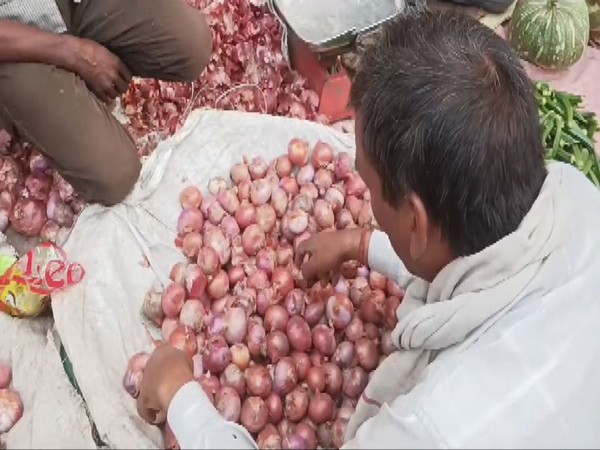 New Delhi [India], October 31 (ANI): The Centre on Sunday said that the Department of Consumer Affairs is monitoring onion exports and prices on a daily basis to ensure stable domestic prices and availability to consumers, an official statement said.
The Centre's decision to impose a Minimum Export Price of USD 800 per ton on onions with effect from October 29 till December 31 to discourage exports and maintain availability in domestic markets has shown an immediate impact of price correction in Maharashtra markets, where prices recorded a decline of 5 to 9 per cent from the highest price registered during last week, read the Ministry of Consumer Affairs, Food & Public Distribution press release.
It said that the weighted average price of onion in Maharashtra across all the markets has declined by 4.5 per cent and a "similar decline was observed in consumption centres as well."
"The Department of Consumer Affairs is monitoring Onion exports and prices on a daily basis to ensure stable domestic prices and availability to consumers," the release added.
The statement further informed that in view of increasing demand in the month of November, the Department has started releasing Onion Buffer stock into the market both through mandi sales and "discounted sales to retail consumers at centres of high prices."
This includes retail sales through 685 Mobile retail outlets covering over 170 cities.
NAFED and NCCF have also started procuring an additional 2 LMT onions of kharif harvest to be distributed in high-price centres to keep the onion prices under control and consumers' interest protected.
Buyers have expressed concern over the rising onion prices in several parts of the country and urged the government to take additional steps to bring it down. The price of onion has touched Rs 80 per kg in Mumbai.
The government recently imposed a Minimum Export Price for onions and procurement of an additional 2 lakh tonnes of onion for buffer stocks.
A buyer in Mumbai said, "The prices of onions have increased so much. The rate is Rs 80 per kg. It may go up to Rs 150. We request the government to decrease prices."
Meanwhile, in other parts of the country, such as Uttar Pradesh's Agra, a vegetable seller Manoj stated said prices have soared due to the shortage in supply.
"We are getting onions for Rs 60 to 65 from mandi. Customers are not buying the onions due to rising costs. There is a shortage of supply too," he said. (ANI)