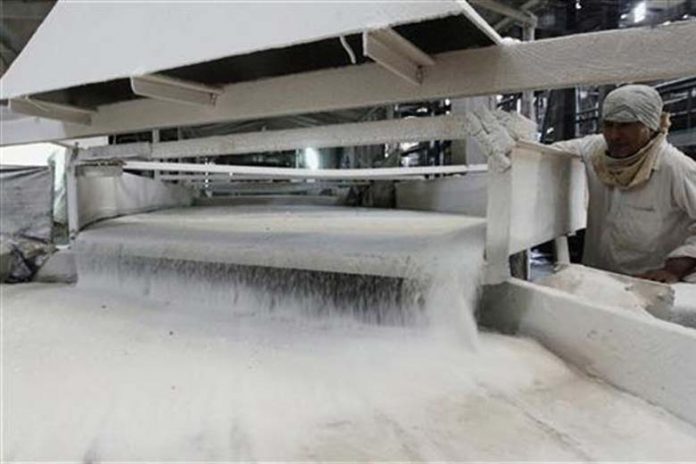 The National Federation of Cooperative Sugar Factories (NFCSF) has approached the Prime Minister's Office with a request for a rise in the Minimum Floor Price of sugar for Maharashtra and Uttar Pradesh. Significantly, the delegation that met Nripendra Mishra, Principal Secretary to the PM, has sought a
hike of Rs 4 per kg in the floor price for sugar for Uttar Pradesh and Rs 2 per kg for Maharashtra.
The Centre had fixed a floor price of Rs 29 per kg of sugar to arrest the downslide in prices which have been on the lower side for past several months. Millers found it tough to make cane payments to farmers as a result of which cane arrears rose to nearly Rs 22,000 crore across the cane growing states in the country. Now, the millers are seeking a floor price of Rs 31 per kg for Maharashtra and Rs 33 per kg for UP.
Dilip Walse Patil, chairman of the federation who met the Principal Secretary along with Prakash Naiknavare, MD of the federation, appealed to the Centre to raise the Minimum Floor Price of sugar. A higher price was demanded for Uttar Pradesh since the state is logistically well connected to others states in the South and North. According to them, the MSP of sugar be kept higher in UP owing to the threat of UP sugar penetrating into markets in southern and western India as it produces premium quality sugar.
The National Federation pointed out that export needs to be encouraged and to increase the export, government should also tap neighbouring countries Afghanistan, Bangladesh where the country has been doing trade and bundle sugar along with other commodities.
Wherever there is a need to send delegation, the federation said that members were willing to visit these countries along with government officials to push exports. The Principal Secretary issued instruction to send delegations to all countries wherever export of Indian sugar is possible, the delegation representatives revealed. The delegation pointed out that since maximum sugar needs to be exported to bring stability in prices, the government should double the current subsidy of Rs 55 per tonne.
It may be mentioned here that sugar mills from UP have already dislodged Maharashtra from the position of the country's top producer. Now, these mills have begun to capture markets in states such as Gujarat, Rajasthan and North Eastern states traditionally dominated by Maharashtra. Hit by falling prices and lack of demand, sugar millers in Maharashtra have been seeking a transport subsidy of Rs 250 per quintal from the government in addition to concessional rates for warehousing for storage of sugar. Falling prices had brought down valuations as well and millers are yet to commence the mandated exports for which they had sought export subsidy.
Moreover, export contracts that were signed by sugar mills in Maharashtra, Karnataka and Gujarat have apparently turned out to be non-starters, thanks to the difference in the existing sugar prices and prices at the time of signing contracts.
Patil suggested that RBI should direct Nabard and related banks to keep a lenient view and release funds to millers so that they could export more sugar. A member of the delegation, Amit Kore, demanded an increase in ethanol prices.
According to industry people, a new policy on ethanol is expected to be announced shortly. Sugar millers in Maharashtra owe farmers Rs 1,748 crore in fair and remunerative price (FRP).
At the season end, Maharashtra has produced almost 108 lakh tonne of sugar, its highest output ever. But the glut, both here and nationally, has not been good news for sugarcane farmers.
Farmer organisations have been getting aggressive over the issue of cane payments in Maharashtra. Swabhimani Shetkari Sanghatana (SSS), one of the more aggressive organisations in the state, have threatened to stage a blockade at the Maharashtra Sugar Commissionerate on June 29 unless the bills of farmers are cleared by June 25.
According to SSS president Raju Shetti, although farmers have given cane to sugar mills over six months ago but millers are yet to make cane payments to farmers. Around Rs 1,900 crore still remain in Fair and Remunerative Price (FRP) dues from millers to farmers, he said.
The farmer leader said that the organisation would wait and watch until June 25 for the sugar dues to be cleared and after this it would take an aggressive stance and stage a demonstration and thereafter surround the office of the Commissioner in Pune on June 29.