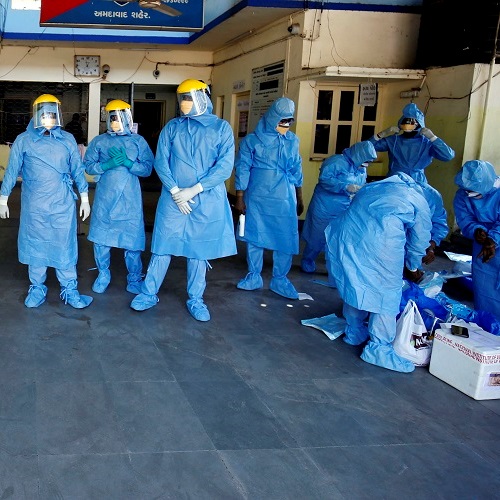 India's COVID-19 tally reaches 81,970, death toll at 2,649
With an increase of 3,967 COVID-19 cases in the last 24 hours, India's tally of coronavirus cases reached 81,970 cases, according to the Union Ministry of Health and Family Welfare on Friday.
According to the latest figures, 51,401 patients are active coronavirus cases while 27,919 patients have been cured/discharged and one patient has been migrated. With a rise in 100 deaths due to COVID-19 in the last 24 hours, the number of deaths now stands at 2,649.
According to the Health Ministry, Maharashtra is the worst-hit state with regard to the number of COVID-19 cases with 27,524 cases of which, 6,059 patients have been cured/discharged and 1,019 succumbing to the virus.
Tamil Nadu has a tally of 9,674 cases inclusive of 2,240 patients cured/discharged and 66 fatalities. Gujarat has a total of 9,591 cases which include 3,753 patients cured/discharged while 586 have lost their lives due to coronavirus. Delhi has a tally of 8,470 cases of which 3,045 patients cured/discharged and 115 fatalities.
10:11 IST:61 new Covid-19 cases in Odisha, tally reaches 672
Odisha on Thursday recorded as many as 61 new cases of coronavirus, taking the total tally of the cases in the state to 672, informed Department of Health and Family Welfare, Odisha. At present, out of the total cases 511 are active in the state. The state health department further informed that so far 158 people have been discharged and three have died due to the lethal infection.
10:05 IST: 55 more COVID-19 cases in Rajasthan, state tally reaches 4,589
55 more COVID-19 cases have been reported from Rajasthan, taking the total number of coronavirus cases in the state to 4,589 on Friday, said the state Health Department.
The tally includes 1,818 active coronavirus cases while 125 fatalities have been reported due to infection in the state till Friday. The tally is also inclusive of 2,646 patients who have recovered from the disease.
To Listen to this News click on the play button.