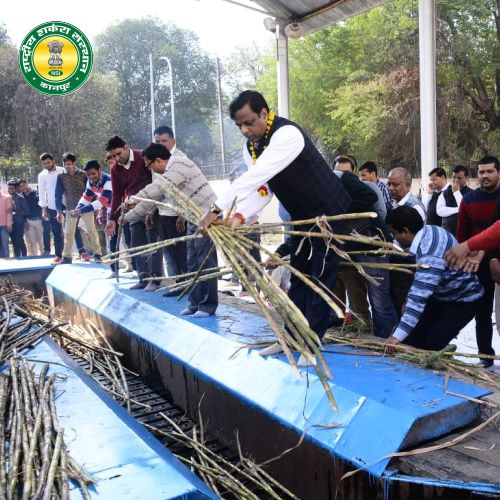 Kanpur: The crushing operations of the Experimental Sugar Factory of National Sugar Institute commenced today. Prof. Narendra Mohan, Director carried out the traditional "Cane Carrier Worship" and offered bundle of sugarcane for crushing. Addressing the students of Sugar Technology I year course, Prof Mohan called upon them to take advantage of the facility which is not available in any other sugar institute across the globe and to in and outs of the sugar processing to the maximum possible extent. By undertaking hands on training in such a factory, the students get clarity in concepts, get exposed to sugarcane management aspects, various unit operations, processing parameters to be maintained and also get a chance to operate them which gives them the required confidence. This is the reason that the Sugar Technologists passed out from this institute are given preference not only in the country but in many sugar producing countries, said Prof. Mohan.
To make students aware about the recent technological developments, newer technologies and equipments are also added. Many such equipments viz. direct contact heater, plate type heat exchangers, lotus roller and effluent treatment plant based on Electro- coagulation technique have been installed in the factory during the last couple of years. The Experimental Sugar Factory is also utilized for conducting trials of various innovative equipments and technologies developed by the institute. During the current crushing season, trials of few such equipments e.g. "Stirrer-less Juice Sulphiter" and "Super Short Retention Time Clarifier" shall be carried out. Stirrer-less Juice Sulphiter shall result in better juice clarification and saving in power consumption as conventional Juice Sulphiter having stirrer requires power for its operation. Moisture Control Unit installed earlier has also been modified, said Prof. Sanjay Chauhan. It has been developed to reduce the moisture % in bagasse from existing level of 50% to about 45%, as lower moisture will result in its better burning in boiler increasing the boiler efficiency. For each 2% reduction in moisture% bagasse, the boiler efficiency shall increase by about 1% resulting in considerable reduction in fuel requirement, he added.

Few more equipment and systems viz mechanical circulator in the sugar boiling pan and auto cane feed control systems have been added to provide required exposure to the students about recent developments in the technology.
 To Listen to this News click on the play button.